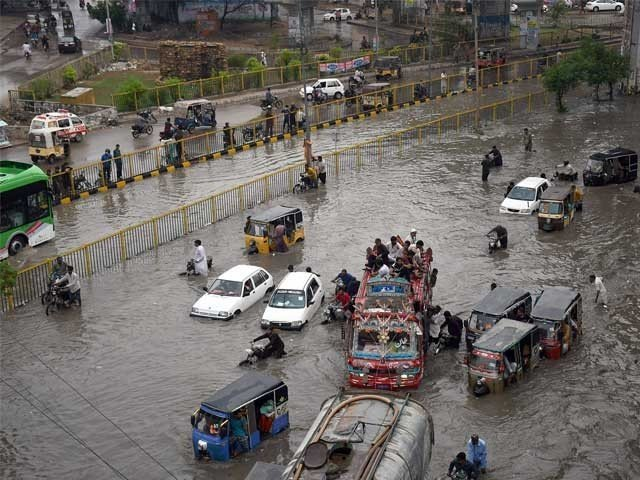 ---
SINDH:
Life in Karachi came to standstill after urban flooding left the ill-prepared infrastructure buckling within a small window of time, with many reeling and mourning deaths.
The ferocious rains became a nightmare and have flooded homes, underpasses, knocked down towers, and power lines, cutting off communications for many in the city of lights.
With yet another weather system due to lash the metropolis, the public is bracing for a potential catastrophe.
The Provincial Disaster Management authority (PDMA) on Tuesday stated that 26 people have been killed in rain-related incidents across Sindh, from June 20 to July 10.
According to data released by the PDMA, in addition to 26 deaths, 11 have been injured within the same period. The highest number of deaths occurred in Karachi.
As monsoon rains ravage the province, the authority stated that 14 people were killed in rain-related accidents in the provincial capital, with six deaths reported in the city's Eastern District and four in Korangi.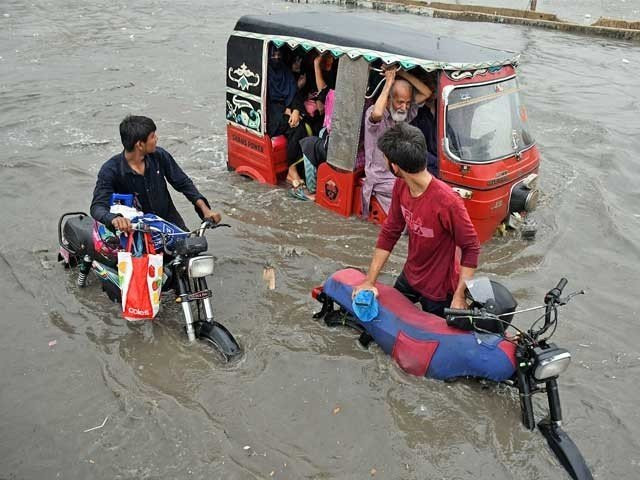 In addition, the report highlighted that four others were killed, each from Karachi's Central District, South District, West District and Malir.
Moreover, Prime Minister Shehbaz Sharif also directed the federal and provincial civic bodies to closely monitor the safety measures ahead of the new monsoon spell expected to start this Thursday.
The premier asked the authorities to ensure a proper precautionary system for the people across the country, including Sindh, Balochistan and South Punjab.
PM Shehbaz lauded the National Disaster Management Authority (NDMA) for extending support to provincial governments and institutions in controlling the situation amid heavy rains.
More torrential rains
Meanwhile, the PMD has also advised authorities concerned to take precautionary measures in the wake of torrential rains in Sindh, Balochistan and South Punjab this week.
Read: NDMA dispatches relief goods for Balochistan rain affectees
The vigorous monsoon activity will be the result of continuous penetration of monsoon currents from the Bay of Bengal in upper and central parts of the country as well as another strong monsoon low-pressure area (LPA) approaching Sindh on July 14 (Thursday).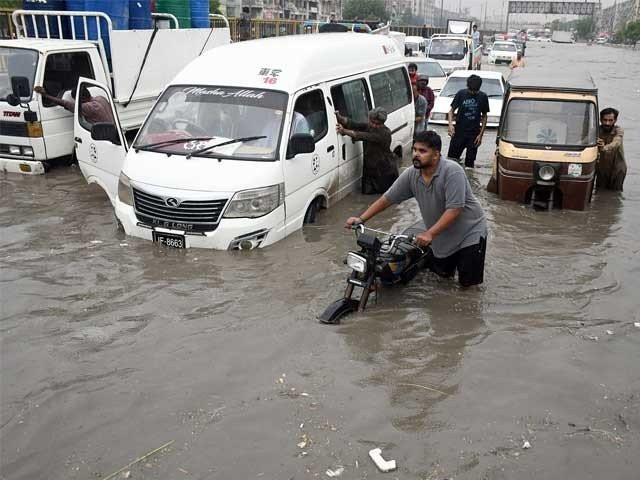 Under the influence of this weather system, more widespread intermittent heavy to very heavy rain-wind/thundershowers are expected in Karachi, Hyderabad Thatta, Badin, Shaheed Benazirabad, Dadu, Tharparkar, Umerkot, Sanghar, Mirpurkhas, Mithi, Jamshoro, Nosheroferoze and Larkana.
Flash flooding is also expected in local Nullahs of Kirthar range, Bolan, Kalat, Khuzdar, Lasbela, Barkhan, Naseerabad, Kohlu, Zhob, Sibbi and hill torrents of Dera Ghazi Khan from July 14-16 while in Islamabad/Rawalpindi, Abbottabad, Mansehra, Dir and Kashmir on July 13 and July 14.
The PDM also advised travellers and tourists to remain cautious during the forecast period.
The port city was inundated on Monday after it received record rainfall overnight, leaving routine life in Karachi paralysed.
Most areas of DHA and Clifton were inundated, with water levels in some localities almost waist-high.
The southern areas of Karachi, including DHA, Clifton, Kemari, Saddar and other localities reportedly received the highest amount of rainfall after a slow-moving thunderstorm stalled over the city during the early morning hours.
Most areas of DHA and Clifton were inundated, with water levels in some localities almost waist-high.
Main I I Chundrigar, DHA, Clifton Underpass, Delhi Colony road, Shara-e-Faisal and other major arteries of the city were also inundated. The city's traffic police said that underpasses at the Punjab Chowrangi, Abdullah Shah Ghazi Shrine and at KPT were closed for traffic due to water accumulation.
Highways leading out of the city were also submerged in waters due to excessive rainfall. The Karachi-Hyderabad track of the highway was closed due to flooding.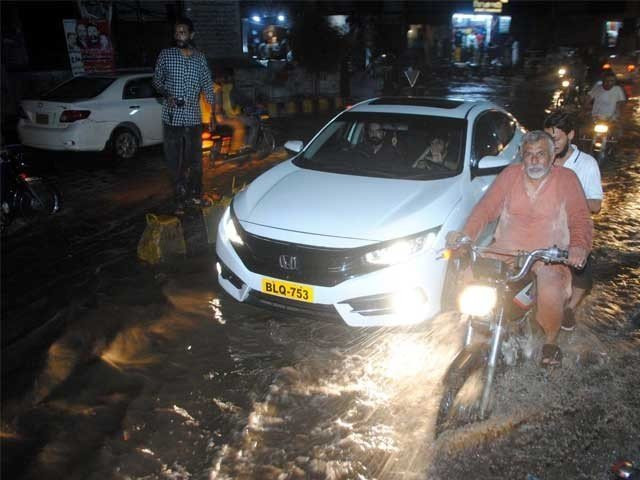 The Pakistan Army and Rangers personnel were busy in relief efforts after the unprecedented rain spell. At least 388 de-watering pumps have been set up by the armed forces and the civil administration to clear the worst affected localities.
Gujjar, Orangi and Mehmoodabad nullahs are reportedly flowing at full capacity, making it necessary to de-water submerged areas with pumps.
Electrocutions, cave-ins
More than 14 were killed in different rain-related incidents including drowning, electrocution and wall collapse during the three days of torrential rains. Meanwhile, rescue workers fished out four bodies of people who had gone missing during the heavy downpour.
On the first day of Eidul Azha, two persons including, 28-year-old Asif son of Aslam and 25-year-old Hassan son of Muhammad Musa, were electrocuted near Bagh-e-Halar Hospital in Shoe Market area of Garden. Police say three people were riding a motorcycle when two of them electrocuted and one fainted. All three were shifted to hospital, where doctors confirmed the death of two people. The third person, however, regained consciousness and is out of danger.
Ali Sher Khan son of Aws Khan, 62, was electrocuted near Mustafa Masjid at Pakhtun Chowk, Bilal Colony area of Korangi.
A septuagenarian woman was martyred when the roof of her house caved in on her when she was offering her Isha prayers. Khadija Sagar, 70, was in a state of prostration (sijda) when a chunk of a precast roof fell on her frail body, killing her instantly. She was mother of Hanif Sagar, a PSP candidate for councilor from UC 8. Neighbours and Raza Eidhi moved Khadija's body from her home in Federal B Area to Abbasi Shaheed Hospital for legal formalities.
Misread forecast
Though Pakistan Meteorological Department had issued warning of heavy rain, many people discounted it for light to moderate showers as experienced a week ago.
A large number of people living near Malir River had to relocate for safety. The city's main and secondary highways were badly clogged due to which daily life came to a standstill. The highest rainfall was recorded in DHA at 233.2 mm. Intermittent downpours are likely to continue Tuesday night.
The monsoon rain spell which took place from July 3 to July 9 somewhat subsided on the first day of Eidul Azha. On July 09, different parts of the city were overcast while the sun was shining brightly.
PMD had earlier predicted light rain for three days from evening to night beginning the first day of Eid. However, the forecast turned out to be completely wrong. On the night between Sunday and Monday, light showers began in the DHA and old city areas, which later turned into torrential rains with thunderstorms.
According to PMD data, the highest rainfall of 233 mm was recorded in DHA till Monday evening. Similarly, 172.5 mm of rain was recorded at PAF Base Masroor and 153 mm at PAF Base Faisal. North Karachi received 50mm, University Road 34mm, Gulshan-e-Hadeed 11mm, Keamari 10.5mm, Surjani Town 37.7mm, Old Airport 37.6mm, Nazimabad 29mm and Gulshan-e-Maymar received 40.1mm of rain.
New records
The rain that started on Sunday night and continued till Monday afternoon set new records. On average, Karachi received 141.4 mm of rain during the current spell. The average rainfall record for July is 53.2mm, in August it is 64.6mm and in September it is 23.6mm.
According to PMD, the second monsoon system will enter Sindh from July 14, which could lead to heavy rains until July 18. Low air pressure is present in the Arabian Sea, south of Karachi, which was the factor behind the last spell of rains.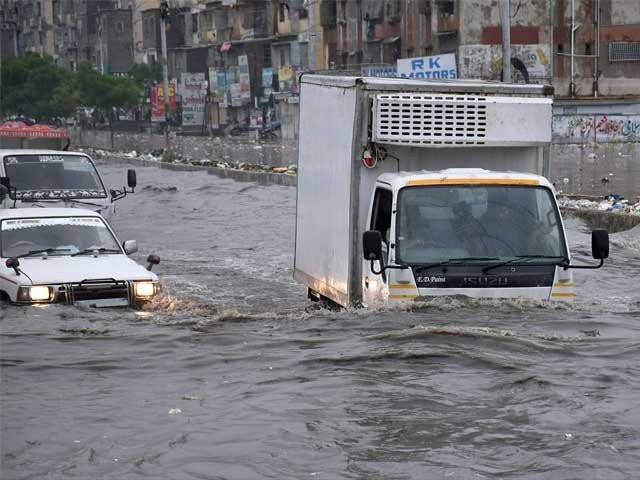 According to the Meteorological Department's Early Warning Centre, Karachi is likely to receive intermittent to moderate rain in the next few days due to continuous low pressure in the North Arabian Sea.
Meanwhile, thundershowers are also expected in Thatta, Badin, Hyderabad, Mirpurkhas, Umerkot, Tando Muhammad Khan, Sukkur, Larkana, Dadu, Jacobabad, Khairpur, Nawabshah, Nowshero Feroze and Shikarpur districts.
COMMENTS
Comments are moderated and generally will be posted if they are on-topic and not abusive.
For more information, please see our Comments FAQ