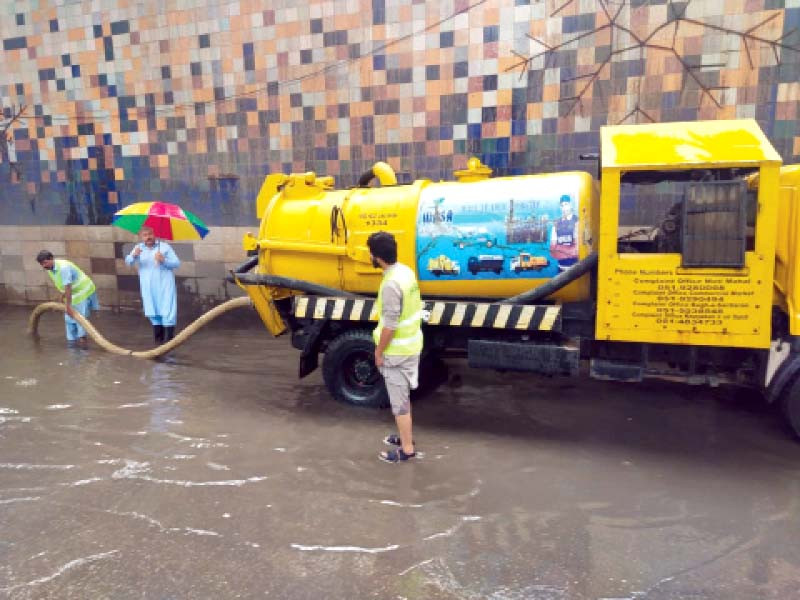 ---
HYDRABAD:
The workers of Hyderabad Development Authority (HDA) and Water and Sanitation Agency (WASA) have resorted to suspending the water supply and work on clearing the choked drainage system in protest against non-payment of their salaries.
The workers put the entire system under suspension for three hours on Monday, weeks after warning the authorities to release their 14-month dues.
The move affected all parts of Hyderabad creating water shortage which is already persisting in many areas besides worsening the already deteriorated drainage network of the city.
"If the employees are not paid salaries and pensions we will further increase the time of our work boycott," warned HDA Employees Union General Secretary Abdul Qayyum Bhatti at a protest.
He said the management of HDA and the Sindh government will be responsible for the situation arising due to their protest. Bhatti maintained that the workers of WASA did not want to create problems for the citizens especially during the holy month of Ramazan. However, the utter indifference of the authorities to the plight of the families of WASA's workers who cannot make both ends meet compelled them to take recourse to such an extreme form of protest.
Read More: WASA MD draws flak over inappropriate social media comments
"We are unable to provide two square meals a day to our families even in this month of Ramazan. Our children also want new clothes for the upcoming Eid but we can't buy them," bemoaned Aijaz Hussain of the union.
The workers deplored that the issue of unpaid salaries and pensions has been continuing for several years but neither the management of HDA nor the provincial government is taking any step to address it permanently.
The workers blamed the officers of HDA and WASA for spending extravagantly on the upgrade of their offices, hiring vehicles and releasing payments to the contractors while all the workforce is left unpaid. The National Labour Federation's Sindh chapter also announced support for the protest of the workers of HDA and WASA.
Published in The Express Tribune, April 19th, 2022.
COMMENTS
Comments are moderated and generally will be posted if they are on-topic and not abusive.
For more information, please see our Comments FAQ