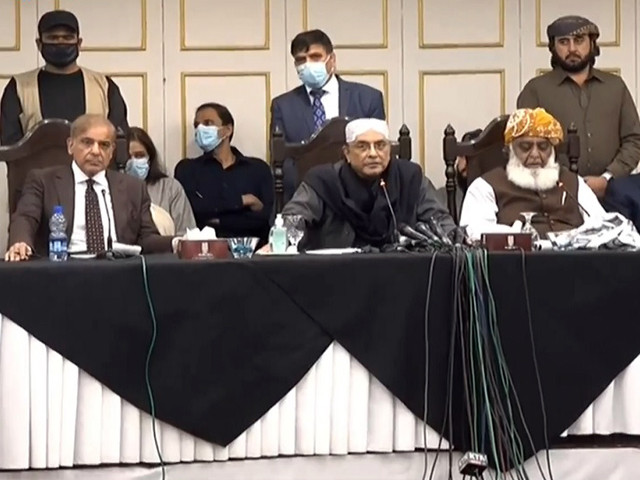 ---
ISLAMABAD:
The joint opposition decided to move the Islamabad High Court (IHC) for the holding of peaceful and uninterrupted voting on the no-trust move filed against Prime Minister Imran Khan, senior Pakistan Democratic Alliance (PDM) leaders said on Tuesday.
Ahsan Iqbal and Azam Nazir Tarar of the Pakistan Muslim League-Nawaz (PML-N) and Maulana Abdul Ghafoor Haideri of the Jamiat Ulema-e-Islam-Fazl (JUI-F) said that a constitutional petition would be filed in the IHC on Wednesday (today).
The PML-N and the JUI-F leaders – both part of the opposition PDM alliance – told reporters at the IHC that the parliamentarians must not be prevented from fulfilling their constitution duty. "The joint opposition will file a petition in this regard by tomorrow (today)," Tarar said.
The opposition filed the no-confidence motion on March 8. Since then, political temperatures had risen across the country with fiery speeches from both the sides and the political rhetoric has been increasing with each passing day.
Read Nobody can be stopped from voting on no-trust move: Bilawal
On Monday, the ruling Pakistan Tehreek-e-Insaf (PTI) announced holding a public rally on March 27, before voting on the motion. In response, the JUI-F announced its plans for an opposition rally on March 23 to counter the government's power show.
Haideri told the reporters that the PTI had created an environment, which had forced the opposition to draw swords. "It will be difficult for them [the opposition] now to sheath the sword," he added. He claimed that the opposition would "deal a severe blow" to the government, it would never forget.
Referring to the police raid on the Parliament Lodges a few days ago, the JUI-F leader said that even the women lawmakers present in the Parliament Lodges were beaten. He blamed Prime Minister Imran for harassing and threatening the opposition parliamentarians.
Stressing that political decisions should be taken in parliament, Haideri said that the opposition had never closed its door on negotiations. "We have not created any problems, rather it is the 'Imrani gang' which has resorted to issuing constant threats to the opposition," he said.
"They [the PTI] are threatening that they will not allow the voting inside parliament. They want to do a programme on March 27. They want to intimidate the National Assembly members. It is a state within the state and the writ of the state is being challenged," he added.
Lawyers from the opposition parties have said that the draft of the petition has been prepared, which will be filed in the high court on Wednesday (today). They added that JUI-F's Haideri, PML-N's Iqbal and Pakistan Peoples Party's (PPP) Farhatullah Babar will be the petitioners.
COMMENTS
Comments are moderated and generally will be posted if they are on-topic and not abusive.
For more information, please see our Comments FAQ