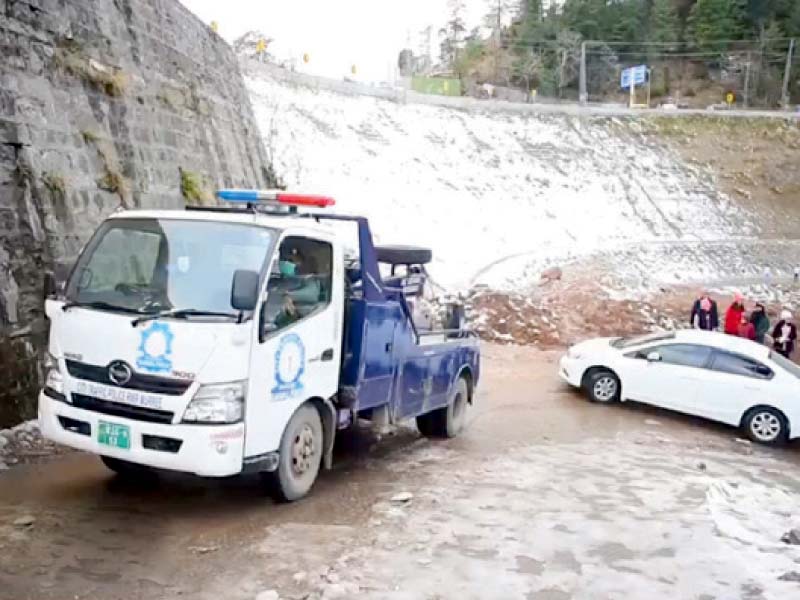 ---
RAWALPINDI:
The district administration after the lifting of a ban on the entry of tourists to Murree on Sunday removed the stopgap checkpoints set up to halt tourists entry into the hill station from 5 pm to 5 am.
However, the Rawalpindi City Traffic Police wardens are still deployed at special points to monitor the situation and the tourists' vehicles entering Murree.
As per new SOPs, 8,000 tourist vehicles will be allowed to enter Murree in a single day.
After the Murree tragedy, the district administration is allowing 8,000 vehicles to enter Murree daily from 5 am to 5 pm on a daily basis.
The city traffic police and the district administration have been closely monitoring the situation. As the weather has improved, the district administration of Rawalpindi has lifted the ban on tourists entering Murree.
Rawalpindi Deputy Commissioner (DC) Tahir Farooq directed the City Traffic Police Officer (CTPO) and the National Highways Authority (NHA) to complete the count of all vehicles and motorcycles entering and leaving Murree from Rawalpindi, Islamabad, Azad Kashmir and Khyber Pakhtunkhwa across all check posts of Murree. He has ordered for a daily report to be submitted to the competent authority.
The DC has also issued a four-point circular stating that 8,000 vehicles would be allowed to enter Murree on daily basis.
"In the case of overcrowding, the competent authority should be notified immediately. The weather report should also be taken into consideration on daily basis," he added.
Rawalpindi Chief Traffic Officer Wasim Riaz said that the counting of vehicles was still in force and only 8,000 tourist vehicles were allowed to enter Murree.
During the snowfall, the ban was imposed from 5 pm to 5 am to ensure the safety of tourists, Wasim Riaz said adding that Rawalpindi traffic police officers were always striving to serve tourists in all weathers.
Free crane and two-truck service is also being provided in case of breakdown of the vehicle during the tour, he said asking the tourists to avoid over-speeding in the hilly area.
The government had earlier lifted the ban on the entry of tourists into Murree. The ban was imposed after the tragic incident that led to the death of nearly 22 people.
The hill station has been reopened for tourism after the installation of a new, state-of-the-art scientific system at all entrances of Murree to count all incoming vehicles.
Published in The Express Tribune, January 31st, 2022.
COMMENTS
Comments are moderated and generally will be posted if they are on-topic and not abusive.
For more information, please see our Comments FAQ