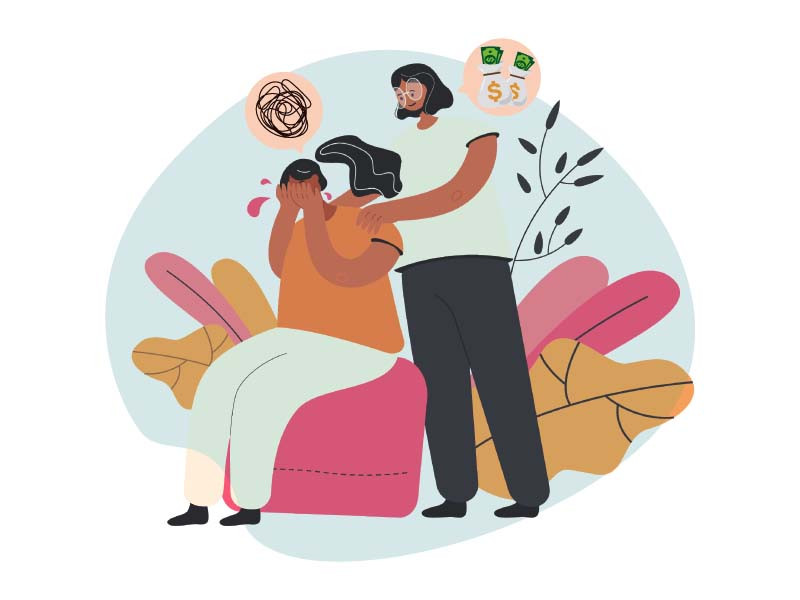 ---
ISLAMABAD:
The stark reality many therapy seekers in the country face is finding out that the counsellor they find solace in and confide in is neither formally trained nor regulated by any accredited body.
Even though seeking therapy has seen an uptick recently, aided by superspreader related lockdowns inducing mental illnesses like anxiety and depression, it has also given rise to individuals offering treatment, who can set up shop online or in-person, with little to no experience. "It is unfortunate that in Pakistan, anyone who has a bachelor's or a master's degree in psychology, can identify themselves as a psychologist and start practicing without any formal training," said Tahira Javed, who's been practicing as a clinical psychologist in the federal capital for nearly a decade.
Meera Afzal, a therapist based in Islamabad who is qualified from the United States (US), while talking to the Express Tribune, informed that there is no actual regulatory body for therapists in the country. Practitioners who identify themselves as either counsellors, therapists, psychotherapists, or clinical psychologists neither have to seek a license or accreditation from a formal board, like psychiatrists do from the Pakistan Medical Council (PMC), and start practicing; potentially putting lives at risk.
Elsewhere in the world, for instance in neighbouring India, the process of becoming a psychologist entails getting a license from the Rehabilitation Council of India (RCI), which is the regulatory body for all mental health practitioners - students after completion of post-graduation in psychology from Indian universities are not entitled to practice as they have to complete a two-year M.Phil program from an RCI recognized universities to be eligible and students from foreign universities who wish to practice in India, can do so by passing an examination prescribed by RCI.
While those wishing to practice in Pakistan after a psychology degree do have to complete an internship as part of their coursework. Javed, commenting on the requirement of an internship, accused, "we all know that there is no actual monitoring mechanism for the required 6-month internship."
The plot thickens in the case of psychotherapists, like the main accused in the ongoing Noor Mukadam case, Zahir Jaffer, who identifies as one. Javed, who practices privately, said, "You do not even need a bachelors or masters degree in psychology to be a psychotherapist." One can get a one-year diploma and certification from institutes, like the infamous Therapy Works, and upon completion start practicing as a psychotherapist, as per Javed.
"Such institutes are not even regulated by the Higher Education Commission (HEC) but instead say that they are accredited from the United Kingdom (UK). So basically, even if you have a bachelor's degree in engineering, you can take courses at such an institute and qualify as a psychotherapist with no formal training in psychology," Javed informed.
Afzal, concurring with Javed's insight, said, "people are entering the field by doing courses offered by external bodies such as CPPD and Counseling and Psychotherapy Central Awarding Body (CPCAB). Both these bodies are UK based and neither one of these bodies provide clinical education or training."
The negative consequences of people entering a field which deals so closely with the human mind are quite severe. A resident of the city, talking to the Express Tribune about her online therapy horror story on the condition of anonymity, said that she has been left traumatized.
"I was 10 minutes late to my online therapy session and the therapist started scolding me stating that I was unprofessional. In a prior session, I had told him that such statements were triggering for me but he paid no heed. He ruined my entire week and made me rethink therapy," she lamented.
However, she is not alone. Javed, in her interview with the Express Tribune over the phone, narrated an incident where she had immense difficulty providing help to a client. "After multiple sessions of trying to engage her, we found that the client had been to a therapist before who had only made her mental health issues worse," she said.
Given the gravity of the situation, the PMC's Secretary, Dr Shaista Zeeshan, was repeatedly contacted by the Express Tribune, to inquire about the lack of a licensing authority or accreditation board but she did not respond to messages or calls.
When asked on how to make the current setup work, both, Javed and Afzal, suggested that in the absence of a formal regulatory body, those seeking therapy should make sure that their therapist has at least a Masters in Science in psychology, has completed formal training with a supervisor, preferably has an accreditation from reputable psychologist organizations overseas like the American Psychological Association (APA), comes highly reviewed from other patients.
COMMENTS
Comments are moderated and generally will be posted if they are on-topic and not abusive.
For more information, please see our Comments FAQ