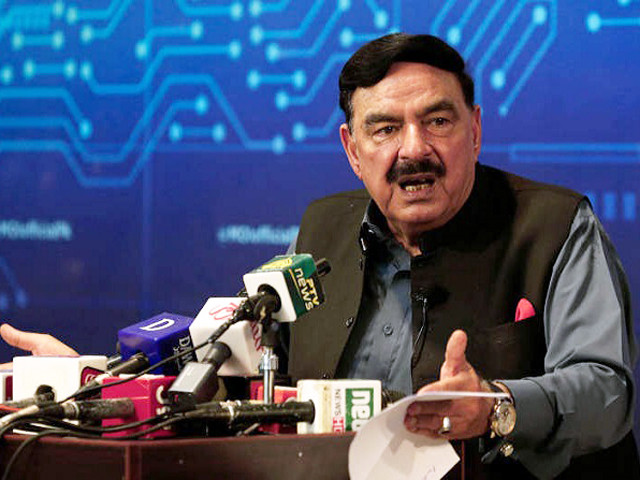 ---
ISLAMABAD:
Interior Minister Sheikh Rashid Ahmed took a swipe at the Sharif family on Friday, saying that they no longer had any role in country's politics.
Addressing a press conference, the minister cited some documents and claimed that Pakistan Muslim League-Nawaz (PML-N) President Shehbaz Sharif was "more corrupt" than his elder brother and former prime minister Nawaz Sharif.
Rashid asked the Sharif family to "stop waiting for any good opportunity". "All the four Sharifs are minus from national politics," he said, referring to Nawaz and Shehbaz Sharif besides, Maryam Nawaz and Hamza Shehbaz.
Responding to a question about the return of Nawaz Sharif, who had been living in London since 2019, the interior minister said that the country's politics would remain unchanged whether or not the former prime minister came back to Pakistan.
Also read: Shehbaz, Fazl discuss no-trust move against PM
Rashid stressed that the Pakistan Tehreek-e-Insaf (PTI)-led federal government would complete its tenure of five years. Not only that, he expressed his confidence, the PTI would also form the next government by winning the general elections.
"The government has already completed its three and half-year tenure, while the opposition still needed "warm-up time" ahead of next general elections in 2023," he said. "The opposition parties are disappointed because the present government is successfully running the state affairs," he added.
"The opposition has been saying since last year that the PTI is going to lose power, but it should clear any misunderstanding about the government. Prime Minister Imran Khan is so lucky to have got such incompetent and ineffective opposition," he remarked.
When asked about the announcement of protest marches by the Pakistan Peoples Party (PPP) in February and the Pakistan Democratic Movement (PDM) in March, the interior minister said that the opposition had no vision to understand the prevailing situation.
"They have picked the wrong time for holding the protest. They have already missed their chance and now they will get nothing but waste time. We will welcome them and won't try to stop them or take any action against their protests," he added.
COMMENTS
Comments are moderated and generally will be posted if they are on-topic and not abusive.
For more information, please see our Comments FAQ