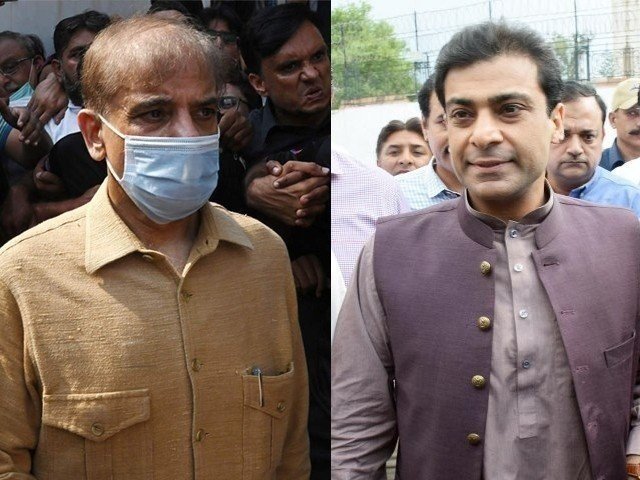 ---
LAHORE:
Leaders of the opposition in the National and Punjab Assemblies, Shehbaz Sharif and Hamza Shehbaz, on Wednesday sought the quashment of a First Information Report (FIR) registered against them for allegedly possessing assets beyond known sources of income, impersonation, forgery and money laundering between 2008 and 2018.
The father-son duo submitted the petition in the Lahore High Court (LHC), wherein they asked for the FIR to be quashed and a restraining order against the National Accountability Bureau (NAB) and the Federal Investigation Agency (FIA).
Both Pakistan Muslim League-Nawaz (PML-N) leaders accused the government of using institutions for "political vendetta" and contended that inquiries against them were started to implicate them in "false criminal cases" but nothing could be established against them.
Shehbaz, in his petition, contended that NAB summoned him in one case and arrested him in another.
Read More: Shehbaz, Bilawal to meet next week to discuss anti-govt protests
The opposition leader has been accused of acquiring assets in his own name and in the names of benamidars to the tune of Rs7,328 million between 2008 and 2018, which are disproportionate to known sources of income. He has also been accused of resorting to money laundering in order to justify the "disproportionate assets".
They said that an investigation team of FIA visited them at Kot Lakhpat Jail and they furnished whatever information they had while pleading innocence. They added that despite a lapse of many months, no investigation report was filed, and even the FIR was in clear violation of the mandatory provisions of Section 173 of Code of Criminal Procedure (CrPC).
They further said that the conduct of the investigating officer towards the conclusion of investigation was found to be lethargic by the learned court and repeated directions were issued for submission of investigation report under Section 173 of CrPC, but the submission of the investigation report was delayed on one pretext or the other.
They also pointed out the legal discrepancies in the process of submission of challan and before the court, and how things went on, ultimately culminating in the petition that they were submitting in the high court.
The opposition leaders, therefore, asked the court to quash the aforementioned FIR against them.
COMMENTS
Comments are moderated and generally will be posted if they are on-topic and not abusive.
For more information, please see our Comments FAQ