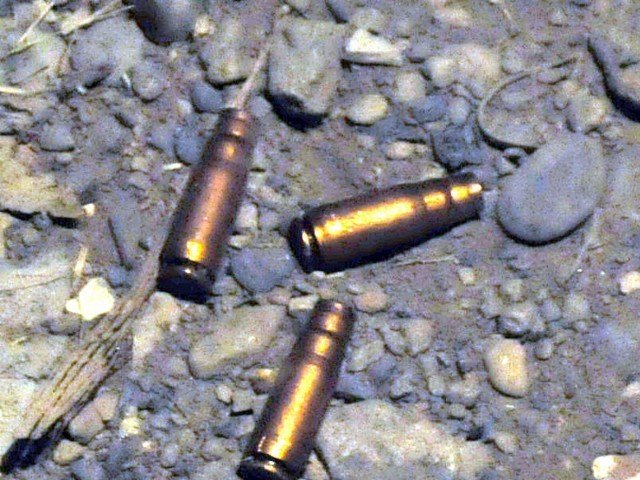 ---
BUREWALA:
A man shot his stepmother and brother to death while injuring his father over a piece of land dispute here at Mosa Khokhraan in the jurisdiction of Fateh Shah Police on Wednesday.
Police said Khizer Hayat had a lingering land dispute with his father Dost Muhammad, stepmother Shamaa Bibi and stepbrother Azher.
On the day of the incident after an exchange of harsh words among them, the accused opened fire at them and shot his stepmother and stepbrother to death on the spot while his father got serious injuries.
The accused managed to escape from the spot. Rescue 1122 along with police reached the spot and shifted the bodies and injured to Tehsil Headquarter Hospital Burewala for necessary legal formalities. Police also have started investigations into the incident and have registered the case against the accused. Cases of violence over property disputes are rampant in Punjab.
On June 29, 2021, a man stabbed his 70-year-old grandfather and four-year-old cousin to death and injured his grandmother, aunt and a 2-year-old cousin over a property dispute near Sarki village in Khushab.
Muhammad Adnan, the main suspect of the incident, was arrested by Nowshera police and a case was registered against him under Sections 109 (Punishment of abetment if the act abetted committed in consequence and where no express provision is made for its punishment), 302 (Punishment of Qatl-i-amd) and 324 (Attempt to commit qatl-i-amd).
Hafeezur Rehman, son of slain Nawazul Haq, filed a complaint stating that his uncle Abdul Hafeez had informed him that his nephew Adnan had come to his house at 8pm. He said that he had come from Rawalpindi and had to rest.
"As soon as he entered the house, he started stabbing my father Nawazul Haq. When my mother Malikani Bibi and wife Ghulam Raqiyah went to rescue my father, the suspect also injured them. Adnan also stabbed and injured my young daughters Maryam Alvi and Shifa Alvi, one after the other," the complainant stated.
Later, 70-year-old Nawazul Haq and four-year-old Maryam succumbed to their injuries.
After the incident, the injured were shifted to Tehsil Headquarters Hospital Nowshera. Meanwhile, the deceased were buried after postmortem in the graveyard of their native village.
Nowshera SHO Amir Shehzad said that the suspect Adnan had been arrested and strict legal action was being taken against him. In a similar incident in March, a man, his pregnant wife and two children were murdered allegedly by his father in Kotli Kokian.
There was an atmosphere of gloom in the village after the incident. According to local people, both the children were beaten to death with an iron rod in front of their mother. Later on, the woman was also killed. According to the police report, the incident took place in Kotli Kokian village of Motra area.
Basharat and his son Adnan were allegedly involved in a property dispute. Adnan was feeding buffaloes near his house when he was shot dead.
His pregnant wife Mashal, two-year-old son Abdul Hadi and three-year-old daughter Haniya were beaten to death with an iron rod inside the house. Adnan's father Basharat went missing after the incident.
Adnan was the son of Basharat's first wife. Basharat had divorced his mother and remarried.
Published in The Express Tribune, January 13th, 2022.
COMMENTS
Comments are moderated and generally will be posted if they are on-topic and not abusive.
For more information, please see our Comments FAQ