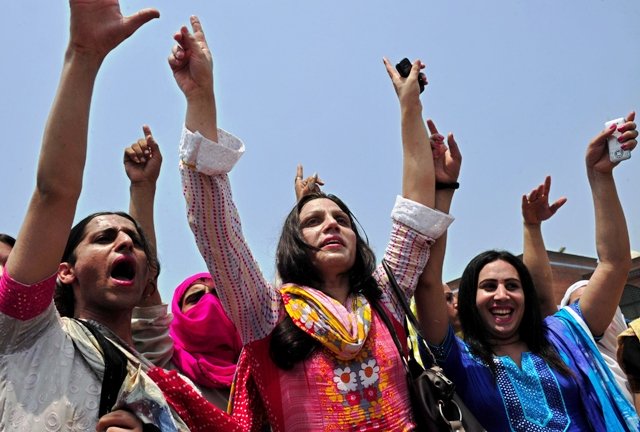 ---
KARACHI:
Transperson – or Khwaja Sira, as they are locally known – have been granted certain rights, with the Transgender Persons (Protection of Rights) Act 2018 allowing them to choose their gender identity, and having it acknowledged on official documents such as the National Identity Card and passport. However, to this day, discrimination against them is rampant in Pakistan.
"At an event today a Deputy Superintendent of Police asked me if I was 'real or fake'", trans model and human rights activist Kami Sid recalled while talking to The Express Tribune.
"No one has the right to declare who is real or fake," she maintained, adding that our society "tolerated" trans individuals instead of "accepting" them.
She hoped people will accept her community one day, emphasising that society will not change if those around a transperson – their friends, family and others – did not accept them.
"Some good things happened [this year], and the community was bought towards positivity. However, negative things occurred, and issues remained," Kami told The Express Tribune, maintaining that people like her have not come to "fight" but to educate and sensitise people about the trans community and the difficulties they face.
"As human beings we deserve to be treated as equal citizens".
This timeline aims to highlight the injustices suffered by the trans community throughout 2021, at the hands of our society and our leaders, while mentioning the small victories that they were able to achieve.
January 7 – Model Rimal Ali attacked in Lahore
Trans actor, model and dancer Rimal Ali was attacked and harassed in Lahore, and her alleged abuser Jahanzeb Khan chopped off all her hair.
"I am being oppressed daily so I can be prevented from working in the showbiz. My life is in danger, so if anything happens to me, Jahanzeb should be held accountable," said Rimal.
January 29 – Rimal joins Pakistan Tehreek-e-Insaaf
A few weeks after her attack, the model joined the ruling party in vengeance, claiming that her traumatic experience forced her to do so.
Rimal's primary focus in PTI was the welfare sector, as she hoped to strengthen her community for people like her.
February 4 – LHC directs the Punjab Public Service Commission to admit a trans-person's job application
Faziullah's application for appearing in a competitive exam for the post of a lecturer was rejected by the Punjab Public Service Commission (PPSC), due to the Punjab Higher Education Department's (HED) gender requirements.
In response, Faizullah filed a petition in the Lahore High Court, highlighting that her master's degree in Urdu qualified her for the job.
The Lahore High Court subsequently ordered the Punjab HED and PPSC to accept her application.
February 11 – Two trans people murdered in Gujranwala
Two transperson – identified as Sanam and Zaini – were shot dead by unidentified assailants in their home.
The two were getting ready to leave for an event when motorcyclists entered their house and shot them.
After the victims were killed protests were held by the trans community, particularly outside the Central Police Office and in GT Road. They demanded the immediate arrests of the killers.
February 16 – Trans community seeks legislative representation
On a plea seeking basic rights and representation of the transgender community in the Senate, National Assembly, provincial assembly, district councils and union councils, the Lahore High Court (LHC) directed the federal and provincial government law officers to submit final arguments on the application on April 16.
Petitioner Atif Sattar sought directions from the LHC to ensure enforcement of rights of the bereaved community in public as well as private spaces and enforce a ban on the use of derogatory terms for the Khawaja Siras.
The application also highlights the need to introduce measures to include transgender persons in the work environment of the government in various roles, even as elected representatives.
March 1 – Dolphin killed by her brother
When transperson Dolphin went to her hometown of Kohat, her visit's information was leaked to her family. Soon after, her dead body was found in a dump.
A First Information Report was lodged with the Kohat Police for Dolphin's murder, upon request of her father Waheed Ahmed.
Upon suspicion, Dolphin's brother Rehman was soon booked for questioning. The accused confessed shooting Dolphin out of spite, during preliminary interrogation.
"We condemn dancing but murdering my child was cruel beyond measure. I had no idea my son would punish his own brother so severely. He should be arrested and brought to justice" the deceased's father lamented.
March 5 – Ex-SAPM urges trans people to register for NIC cards
Ex-Special Assistant to the Prime Minister (SAPM) on Health Dr Zafar Mirza urged the transgender community to register with the National Database and Registration Authority (NADRA) and acquire National Identity Cards (NIC) to open avenues for their accessibility to state-sponsored welfare programmes.
Highlighting the dire financial condition of the country's marginalised factions, especially trans people, Dr Mirza briefed the participants regarding efforts being made by the incumbent government to provide accessible healthcare to underserved citizens.
"Currently, only 1,600 transgender people are registered with NADRA, which is an alarmingly low figure," said Dr Mirza, adding that out of these 1,600, only 500 have enrolled for the government's Sehat Sahulat Programme.
March 22 – First madrassa for trans people opens in Pakistan
Rani Khan set up Pakistan's first trans-only madrasa, or Islamic religious school, which she established herself using her life savings.
"Most families do not accept transgender people. They throw them out of their homes. Transgender people turn to wrongdoing," Rani said in an interview.
According to Rani, the government did not provide money for the school. However, some officials promised jobs for the students.
Along with some donations, Khan is teaching her students how to sew and embroider, in hopes of raising funds for the school by selling clothing.
March – Jiya opens a tailoring store in Karachi
35-year-old trans woman Jiya opened a boutique to make clothes for women and trans women.
Other trans people running tailoring businesses have tended to do so out of their homes, wary of ostracism in a country with many.
Many landlords were reluctant to give a shop to a trans woman, Jiya said. However, she finally secured one in a new market, which she opened with two other trans women.
"We want to expand this business. We want a boutique with Eastern and Western designs, all types of dresses," she said.
July 21 - Punjab Social Protection Authority approves Equality Programme
The Punjab Social Protection Authority approved an 'Equality Programme' to provide monthly financial help to transpersons across the province. Registration for the scheme was to start from August 2.
Under the programme, transpersons aged 40 years and above were to be given monthly financial help of Rs3,000 and be offered jobs in private companies in the province. On the other hand, all differently-abled transpersons between the ages of 18 and 40 years were to be given financial help of Rs2,000 per month.
NADRA ID cards were required for the registration.
July – First trans school opens in Punjab
Punjab Education Minister Murad Raas announced that the provincial government will open up the first-ever transgender school in Pakistan, in the city of Multan. "We are opening the first-ever transgender school in Pakistan. Why would we deny education to anyone in our country? Our first school is opening in Multan," tweeted the minister.
The provincial education minister vowed that schools for the transgender community will be opened in all districts of Punjab. "One step at a time. Education for ALL," he added.
We are opening first ever Transgender School in Pakistan. Why would we deny education to anyone in our country? Our first school is opening in Multan tomorrow. We will open such schools in all Districts of Punjab InshAllah. One step at a time. Education for ALL. https://t.co/Xq19NV7yix

— Murad Raas (@DrMuradPTI) July 6, 2021
August 5 – Punjab government allows induction of trans people into police, health departments
The trans community was allowed to submit applications at any police centre in 36 districts of Punjab. The age limit for candidates was fixed between 18 to 25 years with a three-year relaxation in the upper age limit.
For induction against the posts of stenographers, the candidate was to be able to type 40 words per minute. The hiring was to be made through the Punjab Public Service Commission.
Police sources further said that after the induction, transgender people would be deployed in police offices.
September 1 – Trans people excluded from anti-rape bill
The Senate Standing Committee on Law and Justice cleared the Anti-Rape Bill, 2021 with amendments, paving the way for death sentence, life imprisonment or chemical castration for those found guilty.
Taking up the issue of inclusion of the trans community into the bill, the ministry suggested doing so would create complications, especially due to capacity issues in the healthcare sector.
Minor members of the transgender community, however, would fall under the ambit of children under the law.
October 13 – Ministry of Human Rights establishes Transgender Protection Centre
Minister for Human Rights Dr Shireen Mazari inaugurated the Transgender Protection Center to provide rehabilitation, referral services, psychological counseling and legal assistance to trans people.
The Transgender Protection Center, inaugurated today by Minister @ShireenMazari1, has been established under the Transgender Persons (Protection of Rights) Act, 2018 to provide rehabilitation, referral services, psychological counseling, legal assistance to transgender persons. pic.twitter.com/Ro9bkzRHSp

— Ministry of Human Rights (@mohrpakistan) October 13, 2021
October 17 – Trans people get special quota in Rehri Ban Project
Special Assistant to the Prime Minister on Poverty Alleviation and Social Protection Senator Dr Sania Nishtar revealed that a special quota will be allocated for women and transgender persons under the novel "Ehsaas Rehri Ban" project to provide them conducive business environment and ensure their respectable livelihood.
Dr Sania said that the eligible families would be able to avail the facility of buying essential commodities like flour, sugar, ghee at subsidized rates.
November 11 – Senate told 28k people applied for sex-change surgery in the past three years
The Senate was told that in the past three years 28,723 people had applied for a sex change surgery under the incumbent PTI government.
According to the interior ministry, citizens apply for gender reassignment due to medical reasons.
November 15 – JI presents bill seeking amendment to Transgender Persons (Protection of Rights) Act, 2018
The Jamaat-i-Islami presented a bill in the Senate, seeking an amendment to the Transgender Persons (Protection of Rights) Act, 2018. The amendment seeks the creation of a medical board that would recommend whether a person's gender should change, instead of them seeking a reassignment on the basis of their personal identity.
The amendment bill presented by Senator Mushtaq Ahmad calls for the formation of a gender re-assignment board to suggest to Nadra whether a person's gender should be reassigned.
It recommends the formation of such boards at the district level after the approval of the prime minister and provincial chief ministers, with each board comprising a professor, doctor, psychologist, male general surgeon, female general surgeon, and chief medical officer.
Opposing the bill, Human Rights Minister Shireen Mazari said the proposed amendment was aimed at "victimising" transpersons as the current law gave them the right to identity.
"Till date, not a single complaint has been received regarding the misuse of this [existing] law," she added.
November 17 – 25 trans community leaders join PPP
At least 25 leaders of the transgender community announced joining Pakistan Peoples Party (PPP), expressing faith in the leadership of the Bhutto family scion, Bilawal Bhutto Zardari.
"The PPP is a social-democratic party and provides equal opportunities of progress to everyone," PPP leader Nisar Khuhro remarked.
Trans leader Bindiya Rana said her community wanted to see Bilawal Bhutto as the next prime minister of the country. Other members of the community also expressed complete confidence in PPP's leadership.
December 2 – Efforts made to give trans people the right to inheritance
Director General Federal Ministry of Human Rights Muhammad Arshad said that they are working closely with all institutions to provide transpersons with other rights including inheritance, employment and education.
"The transgender community is the oppressed section of the society, for their welfare we need measures. Safety centres for transgender persons are being set up," he said.
December 11 – Trans woman, organizer of climate march sexually assaulted
A trans woman, who was also one of the organizers of the Karachi Climate March, was sexually assaulted and tortured by unidentified men, a day before the march.
The unidentified persons kept her in detention for three hours and tortured her to extract information regarding the march's speeches.
The assailants also allegedly threatened her to stop trans rights activism and related political activities, otherwise, the trans community would be subjected to greater violence in the future.
TW: RAPE + ASSAULT

On the 12th of December, 2021, we organized a People's Climate March in Karachi. The night before our protest, we held an organizing meeting. One of our organizers, a trans woman, was abducted on her way home. She was tortured and raped#ClimateMarchKarachi

— Karachi Bachao Tehreek (@StopEvictionKHI) December 13, 2021
December 19 – Trans Pride Day celebrated in Lahore
December 25 – Sindh government reserves 0.5% quota for trans people's employment
Sources revealed that an amendment is being made to the Sindh Services Act 1973 for the appointment of transgender persons within the basic pay scale 15 and under.
"The bill is aimed at creating space for this marginalised segment through inclusion in the mainstream society," the source said.
A law department spokesperson further said that the bill, which is soon to be passed, has been drafted following consultation with the local transgender community.
Addressing her community, Kami emphasised that they need to become economically independent, otherwise "this cruel society" would give them nothing.
"You need to empower yourself socially, mentally, financially, morally. When they are empowered, no one will look down on them," she stated.
Partial responsibility falls upon the incumbent government to ensure that guidelines set for the rights and betterment of the trans community are adhered to. A top-down change in attitudes may help transform the negative ideologies of society.
"Don't be a picture mafia and use the community for false show. A lot of parties use minority communities for gaining numbers and portraying a good image," Kami commented.
Political leaders should maintain their promises and be serious about these promises, she said.
COMMENTS
Comments are moderated and generally will be posted if they are on-topic and not abusive.
For more information, please see our Comments FAQ