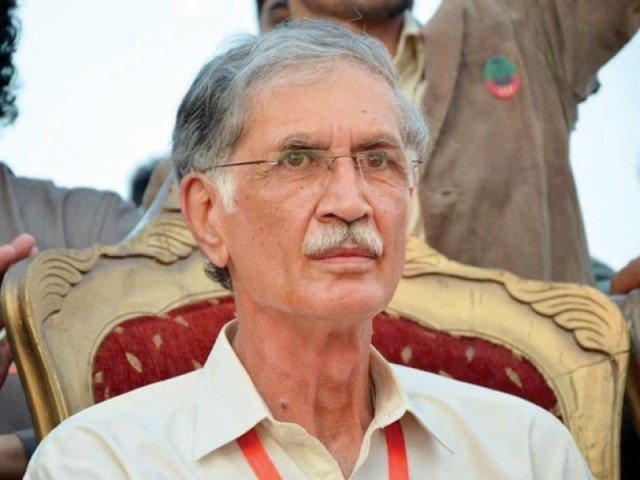 ---
Hours after the Pakistan Democratic Movement (PDM) steering committee voiced support for a long march and resignations from assemblies as a ploy to oust the Pakistan Tehreek-e-Insaf (PTI) government, Defence Minister Pervez Khattak on Sunday said no one can dare topple the government of Prime Minister Imran Khan.
"There's no chance of an in-house change," the senior PTI minister said while addressing a ceremony in Peshawar on Sunday. "I stand firm in support of Prime Minister Imran Khan."
Khattak further said, "The situation due to the inflation will get better once the gap between the demand and supply improves".
"Was it our fault to approach the IMF [International Monetary Fund]?" he questioned adding, it was the former rulers that made Pakistan indebted with loans.
Also read: PDM steering committee voices support for long march, resignations
To a question, he said, "Who is opposition to stop me from visiting Nowshehra?" and added, "I haven't organised an electoral gathering or run an election campaign".
To another query, Khattak said that the government was planning high-rise buildings [for K-P cities], saying the province needed it badly.
"I don't understand why there was a ban placed on high-rise buildings."
Earlier today, the steering committee of the Pakistan Democratic Movement (PDM) prepared recommendations in favour of the long march and resignations from assemblies to protest against the incumbent government and rising inflation.
Also read: 'Inflation, unemployment' biggest threat to country
The meeting agreed to hold conventions and protest rallies in all four provinces across the country before the long march. However, the time and dates for the march and resignations are to be decided at the upcoming PDM summit tomorrow.
PML-N President Shehbaz Sharif on Friday announced that the PDM would decide the details regarding the long march in the December 6 meeting, rejecting the notion of a rift between opposition parties.
He cited soaring inflation and unemployment as two major issues, threatening the very existence of Pakistan.
COMMENTS
Comments are moderated and generally will be posted if they are on-topic and not abusive.
For more information, please see our Comments FAQ