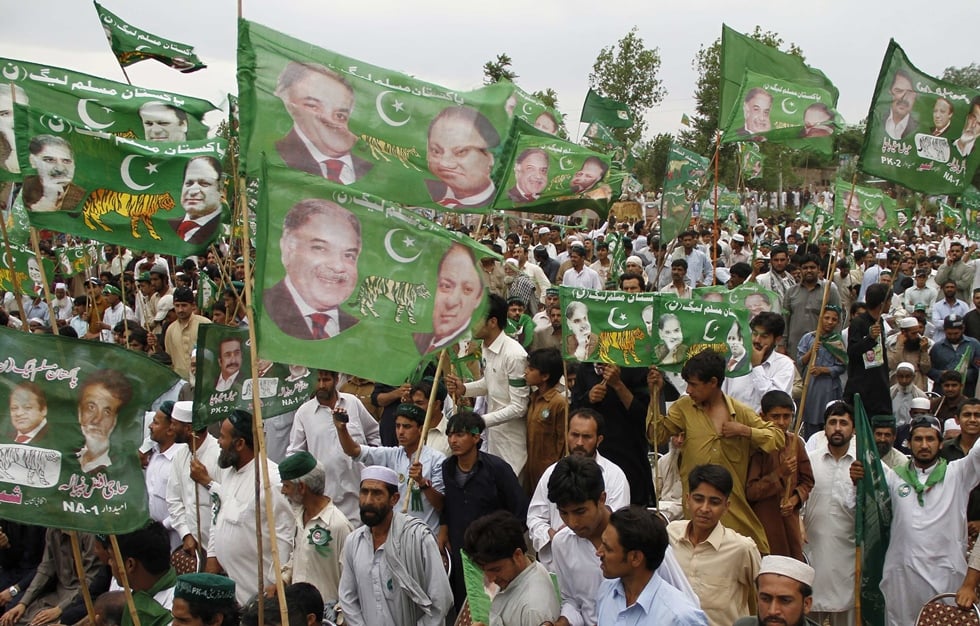 ---
LAHORE:
The PML-N on Sunday maintained its position in the National Assembly by winning the NA-133 Lahore by-election – its fourth consecutive victory in the constituency.
As per unofficial and unconfirmed results, PML-N candidate Shaista Pervaiz Malik bagged 46,811 votes and reclaimed the seat which was left vacant after the death of her husband, Pervaiz Malik, in October.
In comparison with the 2018 general elections results, the PPP has gained a bit of popularity in the constituency as its candidate Aslam Gill gained 32,313 votes in the by-poll.
Earlier, he could hardly manage to secure a little over 5,000 votes.
A total of 11 candidates were in the race for the by-election, but the major competition was witnessed between the PML-N and PPP.
Polling started at 8am and continued till 5pm without any break.
A total of 254 polling stations were set up for 440,085 registered voters – 233,558 male and 206,927 female. Of them, 22 polling stations were in the A category, 198 in B and 34 in C.
There were 200 separate polling stations for men and women. Besides, 54 mixed polling stations were also set up.
Keeping in view the Covid-19 pandemic, standard operating procedures (SOPs) were followed strictly at all polling stations.
The polling process largely remained peaceful except some minor scuffles between PML-N and PPP activists in Maryam Colony and Kot Lakhpat.
Both the PML-N and PPP had arranged transport to bring their voters from their homes.
Both parties had also offered food to their voters, activists and supporters during polling.
However, as the results started pouring in, huge celebrations were seen at the PML-N Secretariat.
A fireworks show was organised and sweets were distributed among party workers.
Addressing the media after the results, PML-N leader Khawaja Imran Nazir said the citizens of Lahore had rejected the "politics of money". Despite paying millions of rupees the PPP failed to get support.
پاکستان پیپلزپارٹی کے چیئرمین بلاول بھٹو زرداری کا این اے 133 کے ضمنی انتخابات کے حوالے سے لاہور کے عوام سے اظہار تشکر

چیئرمین بلاول بھٹو زرداری کی این اے 133 کی انتخابی مہم میں متحرک تمام جیالوں اور تنظیم کے عہدیداران کو شاباش@BBhuttoZardari

— PPP (@MediaCellPPP) December 5, 2021
Ali Pervaiz Malik, the winning candidate's son, claimed that PPP Co-Chairperson Asif Ali Zardari had tried to rig the election by distributing millions of rupees among voters.
"Zardari's electioneering strategy has ruined the politics of PPP founder Zulfikar Ali Bhutto and [his daughter] Benazir Bhutto," he added.
He advised the PPP to reconsider its election strategy otherwise the politics of its chairman, Bilawal Bhutto Zardari, in Punjab would die.
Both leaders questioned as to what had the PPP had done for the betterment of the constituency, which helped them to increase their votes from 5,000 to 30,000, except spending public money from the exchequer of the Sindh government.
Nazir said his party had registered their complaint with the Election Commission of Pakistan, which had already formed a committee to probe the incidents of vote trading.
"Once the forensic audit is completed and the committee submits its report, my party will take this matter to its logical conclusion."
Reacting to the NA-133 by-election result, Punjab government spokesperson Hasaan Khawar said the "politics of money" had failed in the constituency.
He noted that the public had rejected the masterminds of the rigging mafia.
"This reflects how much such elements are hated by the people. Now the PML-N and PPP are fully aware that their old tactics of rigging will no longer work," he added.
Khawar said the next elections would be a trial for the electoral reforms.
He termed the turnout of the NA-133 by-election a "real result" because voters had "remained in their homes".
"Even after today's election, if the Pakistan Democratic Movement [PDM] wanted to fulfil its desire, it should do so as not many people will come out to join them in their protests."
National Assembly's NA-133 constituency mostly comprises of lower- and middle-income group neighbourhoods, including Liaquatabad, Model Town Ext (Q, R and S Blocks), Pindi Rajputan, Ismail Nagar, Kot Lakhpat, Chungi Amar Sadhu, Teharta Pind, Bagrian, Green Town, Township, Maryam Colony, Sitara Colony, Farid Colony, Model Colony, Bahar Colony, Ittefaq Factor, Peco Road, Wafaqi Colony and Johar Town.
COMMENTS
Comments are moderated and generally will be posted if they are on-topic and not abusive.
For more information, please see our Comments FAQ