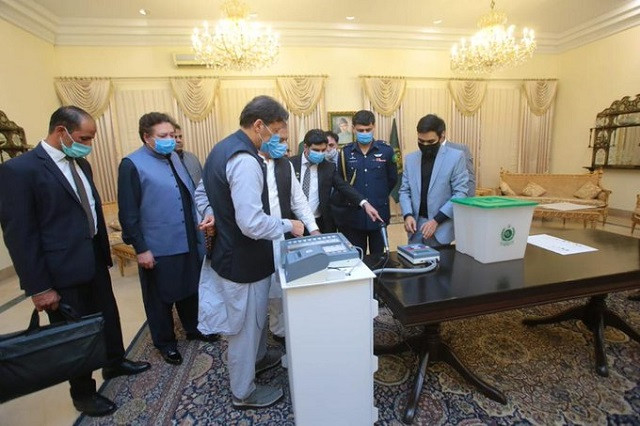 ---
ISLAMABAD:
President Dr Arif Alvi signed the bill on the use of electronic voting machines (EVMs) in the next general elections and granting the right to vote to the overseas Pakistanis into law during a ceremony at the Aiwan-e-Sadr.
No official from the Election Commission of Pakistan (ECP) was present at the signing ceremony despite the invitation. After signing the bill, the president urged the election supervisor to set a timeline for acquiring the machines.
The legislation was among 33 bills passed by the joint session of parliament during its sitting on November 17. Alvi had signed several bills on Wednesday. The remaining bills were signed on Thursday. On this occasion, the president congratulated the government for its efforts for electoral reform.
"Pakistan will progress only when the ordinary Pakistanis adopt innovation," Alvi said, as he gave his assent to the bill. The president described the elections amendment bill as a big step, and emphasised the new law would end allegations of rigging in the elections.
Read Premature to say if EVMs can be used in next polls: ECP
"Allegations of rigging have been made in all previous elections but this will not happen now," he said. "It will help strengthen democracy in the country. With this machine the vote result will be in front of everyone immediately," he added.
Alvi stressed that the Science and Technology Ministry was not the manufacturer of EVMs, rather it built a prototype of the machine." The ECP [Election Commission of Pakistan] will decide what kind of machine it wants," he continued. "Pakistan needs EVMs as well as internet voting."
Speaking on the occasion, Science and Technology Minister Shibli Faraz said that 23 months remained in the next elections, which was an adequate time period to prepare for the next general elections, due in October 2023.
"With the new legislation, now is the time for us to put it [the law] into practice. "There is ample time to conduct the next election through the EVM. "It was time for the ECP to decide which machine to use in the elections."
Adviser to Prime Minister on Parliamentary Affairs Babar Awan said that the legislation about the EVMs had been enacted after three years of hard work. He added that Prime Minister Imran Khan, Science and Technology Minister Shibli Faraz and other government officials made this law possible.
"Congratulations to the president, prime minister, parliament, the people of Pakistan and Pakistanis abroad. As a result of the new legislation, Pakistanis abroad are being included in the decision-making process for the first time," he added.
COMMENTS
Comments are moderated and generally will be posted if they are on-topic and not abusive.
For more information, please see our Comments FAQ