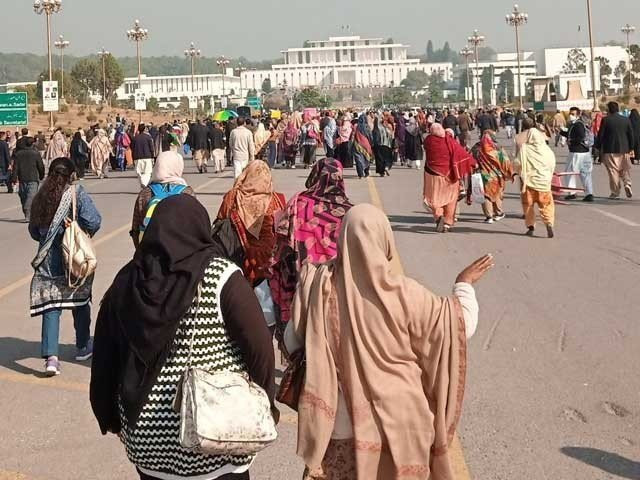 ---
ISLAMABAD:
Hundreds of government teachers rallied outside the Parliament House on Thursday as their protest against the transfer of administrative control of the Federal Directorate of Education (FDE) to Islamabad Metropolitan Corporation (MCI) entered the third day.
Academic activities remained suspended in all government educational institutions of the federal capital.
The ongoing protests are part of a strike called by the Joint Action Committee (JAC) - a teacher's representative body.
Clashes with the police had also been reported as the teachers rallied from the National Press Club to D-Chowk and removed barbed wires and barricades.
وفاقی دارالحکومت اسلام آباد کے سرکاری تعلیمی اداروں کے ہزاروں اساتذہ اور طالب علموں نے تمام رکاوٹیں عبور کرکے پارلیمنٹ کی طرف پیش قدمی شروع کی۔حکومت کی جانب سے تعلیمی اداروں کو میئر اسلام آباد کے زیر انتظام لانے پر اسلام آباد بھر میں مظاہرے pic.twitter.com/gyCDADiFdC

— Abdullah Momand (@AbdullahMomandJ) December 2, 2021
Read: FDE put under Islamabad mayor
According to reports, teachers chanted slogans against the government and said that they will continue protesting until their demands were accepted.
استاد کو - عزت دو (پارلیمنٹ کے سامنے نعرہ لگا دیا) 🇵🇰💞🇵🇰🌹🇵🇰
پارلیمنٹ پر مزید روکاوٹیں ہٹائی جا رہی ہیں آج ہم وزیر اعظم ہاؤس کو یونیورسٹی بناکر جائیںگے 😂💕😂🌹 pic.twitter.com/gqHuaR82AI

— ایم، اے، احمد (@WadeMouAla) December 2, 2021
The protests started after the issuance of a new ordinance regarding an amendment in the Islamabad Capital Territory Local Government Act, 2015. Under the new ordinance, the FDE director-general will also be appointed in consultation with the Islamabad mayor.
The FDE, an attached department of the Ministry of Education and Professional Training, is looking after 424 educational institutions including schools and colleges in the Islamabad Capital Territory (ICT). These institutions impart education from pre-school to masters level both in rural and urban areas of the ICT.
COMMENTS
Comments are moderated and generally will be posted if they are on-topic and not abusive.
For more information, please see our Comments FAQ