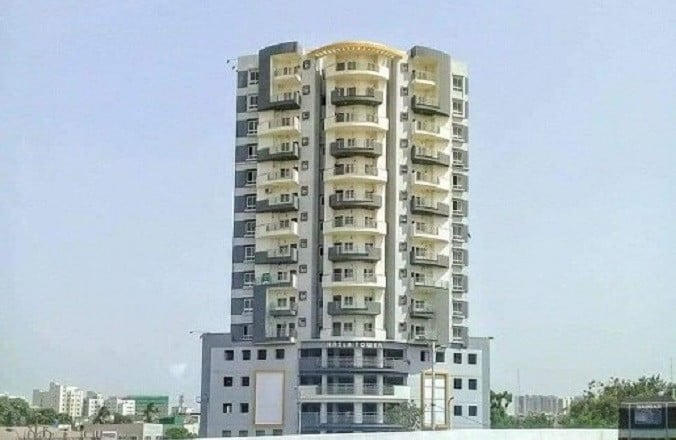 ---
KARACHI:
The demolition of Nasla Tower, a 15-storey building constructed at the confluence of Shahra-eFaisal and Shahra-e-Qaideen in Karachi, was expedited on Sunday on the orders of the Supreme Court of Pakistan.
As many as 400 workers have been deployed to demolish the building while an excavator has been lifted and installed by snorkel to the roof of the building to accelerate the pace of demolition.
Meanwhile, section 144 of the Criminal Procedure Code has been imposed around the building to avoid any interference in the demolition operation.
The service road in the front of the building and the back lane have been closed for security reasons. On Sunday, workers demolished the roofs of the top three floors, while excavators demolished the water tank and other structures on the roof top.
Heavy contingents of police and Rangers have also been deployed around the building to keep civilians away from Nasla Tower.
The work of removing iron rods and grills from the lower floors of the building is also in full swing, which are being collected on the adjoining plot.
The district administration said the labourers will work in shifts to demolish the building as soon as possible. The lower floors of the building will also be demolished by excavators for which there are two excavators available on the ground.
The demolition work will continue round the clock. It may be noted that the apex court has given a week to the administration to demolish Nasla Tower.
COMMENTS
Comments are moderated and generally will be posted if they are on-topic and not abusive.
For more information, please see our Comments FAQ