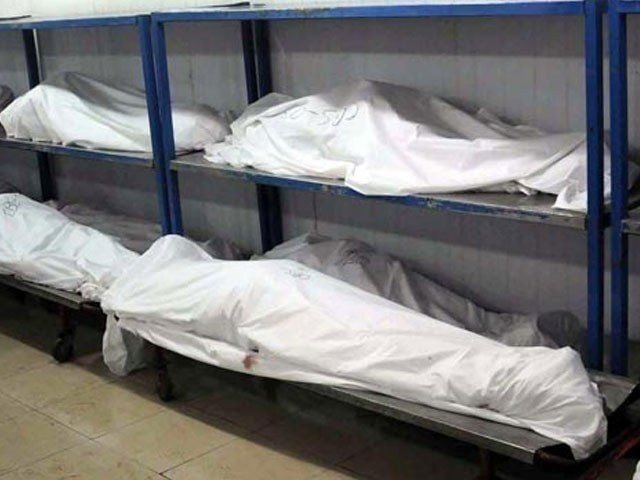 ---
Six people, including two women, were killed as a car plunged into a ravine near Chalashi in Upper Kohistan on Wednesday morning.
According to the police, the car was heading to Rawalpindi from Gilgit, in which six people, including two women and children. They added that the driver, while taking a sharp turn, lost his control over the car and it plunged into a deep gorge. Lotar police and rescuers rushed to the spot and immediately started the rescue operation. The bodies were shifted to Rural Health Centre Shatial.
Later, the bodies were handed over to family members after completion of medico-legal formalities.
According to SHO Zaheer Khan, the deceased persons was identified as Israr, Adnan, Qarar Azhar Hussain, his mother, sister and a brother who belonged to Gilgit. The family was going to Gilgit to attend the funeral of their relative, added Khan.
The 150kms long road from Basham to Chilas is made on the undulated path and the vehicles often plunge into the ravine. Often, the bodies are not found as the road is built along River Indus.
Two weeks earlier, a car fell into a ravine in which Kohistan Anti-Corruption Head Abdul Sattar Khan and his driver died. The car hit the safety booths, and it uprooted. A resident of Kohistan, Moeen Khan, did not find the body of his young son, and even he hoped he would find the body one day.
Read Woman, two children killed in gas explosion
In case of an accident, earlier the locals used to do the rescue work on a self-help basis as Rescue 1122 has been established this year.
In May this year, two accidents in Lower Kohistan district claimed lives of 10 people. The first incident took place on the Karakoram Highway near Karo area when an ambulance carrying a body from Sawt to the Kandia valley plunged into a ravine, leaving seven people severely injured. The locals shifted the injured to a nearby hospital, where they all succumbed to their injuries.
In the second incident, a car skidded off the Karakoram Highway and plunged into a ravine, leaving three people dead. The accident occurred in Chagal Kolai Zango area.
Many roads in Upper and Lower Kohistan do not have a safety booth or plates and those present are also of poor quality.
Published in The Express Tribune, November 25th, 2021.
COMMENTS
Comments are moderated and generally will be posted if they are on-topic and not abusive.
For more information, please see our Comments FAQ