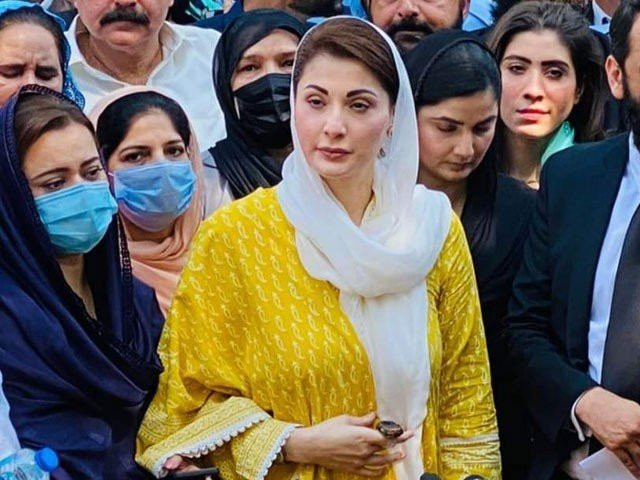 ---
ISLAMABAD:
PML-N Vice President Maryam Nawaz on Wednesday demanded that former chief justice Saqib Nisar should tell the nation as to who had "pressured" him to convict her and her father, former premier Nawaz Sharif, in the wake of the recent surfacing of an audio leak of the ex-top judge.
"This [case of] judicial interference is the fifth testimony in favour of my father," she told reporters at a news conference accompanied by other party leaders.
"Whether today, or tomorrow, you will have to tell the nation the truth. There is still time," she added.
"It's about time that Saqib Nisar and [former ISI chief and now the Peshawar corps commander] Lt Gen Faiz Hameed should stop hiding behind institutions."
In the alleged audio leak of the former chief justice, he can be heard in a conversation with an unknown individual about PML-N leaders Nawaz Sharif and Maryam Nawaz's trial.
The ex-CJP is purportedly telling another person that Nawaz and Maryam would have to be punished as he had been told make space for Imran Khan in politics.
However, Nisar has described the audio clip as "fabricated" and refused to accept that it was his voice.
Maryam demanded that the former top judge should come forth and disclose to the nation who had pressured him to convict her and her father without any merit,
She further asked the ex-CJP as to who had told him that Imran Khan needed to be brought to power.
"Who was it that you could not refuse, despite being the chief justice at the time?" she added. "Why were you forced to take an illegal, unconstitutional step? You will have to answer to all of this."
Maryam claimed that "propaganda" had been started ever since a "renowned" US company verified that the audio clip had not been edited or tampered with after carrying out its forensic analysis.
She added that a certain TV channel was doing propaganda that the clip had been made by clubbing
Nisar's words he had said on different occasions, at least confirming that it was the former top judge's voice.
"For that, the [TV] channel deserves my gratitude," she quipped.
Maryam read the transcript of the audio clip, in which Nisar could allegedly be heard saying that Nawaz and Maryam would have to be punished.
"This [audio clip] is a charge-sheet against Saqib Nisar. In which speech did he say these words," she asked the TV channel.
She claimed that ex-ISI chief Lt Gen Faiz Hameed had spoken about not granting bail to her and her father. "He [Lt Gen Faiz] was the ISI DG at that time. He hasn't denied it."
Read The mixed legacy of CJP Nisar
She maintained that former IHC judge Justice Shaukat Aziz Siddiqui had also made a shocking statement. Former accountability judge Arshad Malik, she added, was punished for speaking the truth.
"Although the two judges had been removed, nobody dared to come forward to provide justice to Nawaz Sharif."
In 2018, Justice Siddiqui had claimed that a spy agency was manipulating judicial proceedings, particularly those against Nawaz and Maryam.
In July 2019, Maryam had presented recorded video clips of Malik in which she claimed the judge admitted to convicting Nawaz unjustly due to "immense pressure".
The judge, who passed away in 2020, had denied the allegations at the time, saying there was no pressure on him to convict Nawaz and that the videos shown by Maryam were "fake and based on lies".
Maryam said while doubts could be raised about the audio clip, Justice Siddiqui and former Gilgit-Baltistan Chief judge Rana Shamim, who had recently issued an affidavit accusing Nisar of judicial interference, were still alive. "You can call them to get their attestations," she added.
"Leave the audio, leave the affidavit, and the statements of former judges and FIA's Bashir Memon. This is the fifth testimony in favour of Nawaz Sharif. Will the nation forget these testimonies? Can you deny that an elected prime minister [Nawaz Sharif] was removed from power unjustly?"
The PML-N leader said the former CJP should defend himself in the case.
"If the audiotape turns out to be false, we will lose the lawsuit and you will get money. Then go and build as many dams as you can with that."
Maryam added that despite all this, she respected the judiciary.
"If we present evidence against [Lt] Gen Faiz, then he should defend himself too."
In response, Adviser to PM on Political Communication Shahbaz Gill said the PML-N leader was levelling baseless allegations against the judiciary through a "fake" audiotape.
"Maryam is certified liar who had submitted fake documents in the court," he told the media at the PM's House.
Separately, Minister of State for Information and Broadcasting Farrukh Habib said Maryam by admitting that advertisements to leading TV channels were blocked during her party's tenure had exposed the PML-N's hypocrisy on media freedom.
"Maryam was using advertisements released using public money for protecting her theft and personal interests," the minister wrote in a series of tweets.(With input from APP)
COMMENTS
Comments are moderated and generally will be posted if they are on-topic and not abusive.
For more information, please see our Comments FAQ