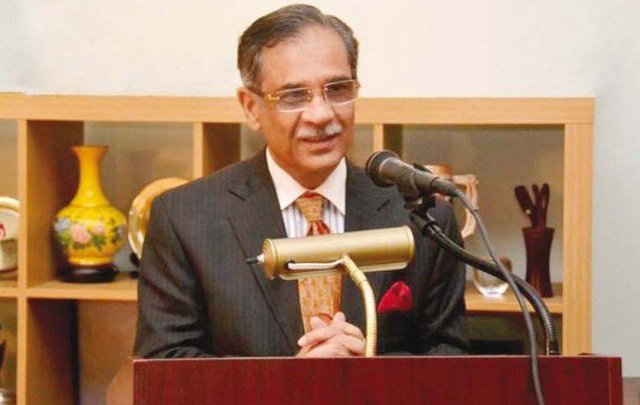 ---
KARACHI:
Former chief justice of Pakistan (CJP) Mian Saqib Nisar has termed an alleged leaked audio clip of his conversation with an unidentified person, in which he purportedly passed instructions to sentence former prime minister Nawaz Sharif, as "fabricated" and contrary to fact.
His reaction comes after a Pakistani journalist claimed in a story published on a website that Justice (retd) Nisar, as the top judge of the country, had instructed his subordinates to sentence the former premier and his daughter Maryam Nawaz at the behest of "institutions" in 2018.
Journalist Ahmed Noorani also shared the audio clip, claiming that the former chief justice had directed his subordinates to send Sharif and Maryam to jail "as institutions wanted to bring Imran Khan to power".
"I have just listened to this audio ... this audio clip is fake which has been attributed to me," Justice (retd) Nisar said in response to the clip while speaking to a local TV channel.

In the dubious leaked conversation, the former chief justice can be heard saying: "Let me be a little blunt about it; unfortunately, here it is the 'institutions' which dictate judgments. In this case, we will have to penalise Mian Sahib [Nawaz Sharif]."
The former judge said, "And 'they' say 'we shall bring Khan Sahib'. Regardless of the merit, we will have to do it, and even to his daughter [Maryam]."
Responding to Justice (retd) Nisar as per the clip, the other person whose identify has not been revealed in the story said, "But, in my view, his daughter doesn't merit a sentence."
"You are absolutely correct. I did talk to 'friends' that something [should] be done about this but they did not agree. There will be no independence of the judiciary, so let it be," Justice (retd) Nisar purportedly responded.
Also read: Ex-CJP rejects allegations of keeping Nawaz in jail till 2018 polls
The website also published the former chief justice's clarification in which he denied contacting any judge of the accountability court and ordering him to pass a verdict against Sharif and his daughter.
"Why would I do that? I have no grudge against Mian Nawaz Sharif," Justice (retd) Nisar was quoted as saying.
آواز کے حقیقی اور درست ہونے کا سائنسی اور جدید تجزیہ کرنے والی امریکی کمپنی کا تصدیق نامہ پیش خدمت ہے کہ یہ ثاقب نثار ہی کی آواز ہے۔ اعمال نامہ حاضر ہے جناب۔عذر گناہ بدتر از گناہ۔ pic.twitter.com/jAenfFBGB4

— Marriyum Aurangzeb (@Marriyum_A) November 21, 2021
PML-N Vice President Maryam reacted to the development on her official Twitter handle. "Allah is the greatest."
PML-N spokesperson Marriyum Aurangzeb said that a US-based firm has certified the authenticity of the controversial leaked audio conversation.
جیو گروپ کے جرنلسٹوں نے پانامہ کی رپورٹ فخر یہ پیش کی اور اب یہ فرمانا چاہ رہے ہیں کہ اُنہیں پانامہ کی سٹوری کرنے کے لیے اداروں نے حکم دیا تھا جس کے نتیجے میں میاں صاحب نااہل ہوئے

پہلے بھی نورانی صاحب اسی کیس میں نواز شریف کی بے گناہی کے بارے جھوٹی خبر دے کر معافی مانگ چکے ہیں۔ pic.twitter.com/aMG3KbVu9a

— Dr. Shahbaz GiLL (@SHABAZGIL) November 21, 2021
PM's aide on political communication Shahbaz Gill said journalist Ahmed Noorani had earlier apologised for publishing "fake news" in favour of Sharif.
Former finance minister Ishaq Dar quoted a verse from the Quran in response. "And they plotted, and Allah plotted, and Allah is better than all those who plot."
The development comes just a few days after former top judge of the Gilgit-Baltistan Appellate Court Rana Shamim in an affidavit accused Justice (retd) Nisar of "keeping Sharif and his daughter in prison till the 2018 general elections".
Also read: If Nawaz can go to jail, why can't Nisar: ex-PM Abbasi
Subsequently, the Islamabad High Court (IHC) took notice of the matter and issued a contempt of court notice to the former top judge of G-B along with the chief editor of the newspaper and its news editor and the renowned journalist.
وَمَكَرُوا وَمَكَرَ اللَّهُ وَاللَّهُ خَيْرُ الْمَاكِرِينَ

ترجمہ:
اور انہوں نے خفیہ تدبیر کی اور الله نے بھی خفیہ تدبیر کی ، اور الله سب خفیہ تدبیر کرنے والوں سے بہتر ہے.(القرآن ٣/٥٤) pic.twitter.com/h2zq5tT5Ta

— Ishaq Dar (@MIshaqDar50) November 21, 2021
The notice was taken by IHC Chief Justice Athar Minallah. A high court judge was also named in the allegation.
Former CJ Nisar had said that the accusations levelled against him by Shamim were "contrary to fact".
Speaking to the media, Justice (retd) Nisar, who ordered the formation of a joint investigation team (JIT) in the Panama Papers case that led to the disqualification of the then prime minister Sharif, said he did not want to respond to the "plain lies" of the former G-B chief justice.
Justice (retd) Nisar said Shamim had asked him for an extension but he didn't accept his request, adding that the former G-B CJ had also complained to him about the same.
COMMENTS
Comments are moderated and generally will be posted if they are on-topic and not abusive.
For more information, please see our Comments FAQ