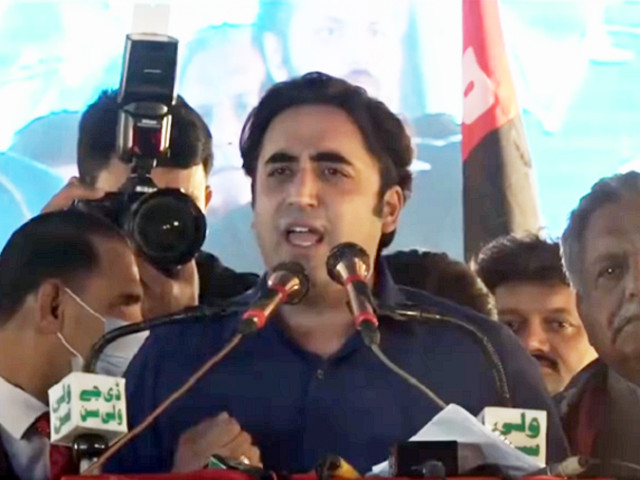 ---
NOWSHERA:
Pakistan Peoples Party (PPP) Chairman Bilawal Bhutto Zardari on Friday fired a broadside at Prime Minister Imran Khan, saying those who came to power at the behest of the "selectors" were ravaging the country.
"PPP jiyalas [workers] will foil your [PM Imran's] conspiracies… they will hold 'selected and puppet' accountable," said the scion of Bhutto family while addressing a rally in Nowshera district of K-P.
He claimed that his party will triumph over the ruling PTI in its political stronghold of Khyber-Pakhtunkhwa (K-P) in the next general elections.
In his fiery speech, Bilawal warned PM Imran, saying, "The time to panic has started… PPP will hold a power show in Peshawar to mark its foundation day".
He said the party will send the incumbent government packing and restore the rule of genuine public representatives.
Bilawal said PM Imran-led government was not making effort to reduce inflation in the country instead it was only "conspiring to rig" the next general elections.
The PPP chairman while referring to Wednesday's joint session of parliament said the government did not pass a single bill to provide relief to the masses. "70-year-old player can no longer fool youngsters," he added.
Bilawal said PM Imran's policies have only brought "destruction" to the country and added that the ruling party has miserably failed to fulfil its promises of bringing a "change" in the country.
Read PPP is not joining PDM: Kundi
"Today everyone is in pain… country is facing unprecedented inflation... unemployment and poverty have hit historic highs," he remarked.
Bilawal said only PPP can resolve the issues of the masses by implementing its people-friendly manifesto. "When they [rulers] are being selected... they will only serve their [selectors] not the people," he added.
Bilawal Bhutto Zardari recalled that his party's government provided jobs and never snatched them. He pointed out that the PPP government had launched the Benazir Income Support Program (BISP) to provide financial assistance to poor women. Pensions were increased by 100% and salaries by 150%, while salaries of soldiers were also increased by a record.
"But now the result of Khan's anti-people policies and the IMF deal has troubled all the people."
"The incumbent government does not even have a single policy tackle poverty and unemployment," he said, claiming that PM Khan's every effort was intended as a way to rob people's votes and pockets "but we would thwart all such conspiracies through the struggle".
COMMENTS
Comments are moderated and generally will be posted if they are on-topic and not abusive.
For more information, please see our Comments FAQ