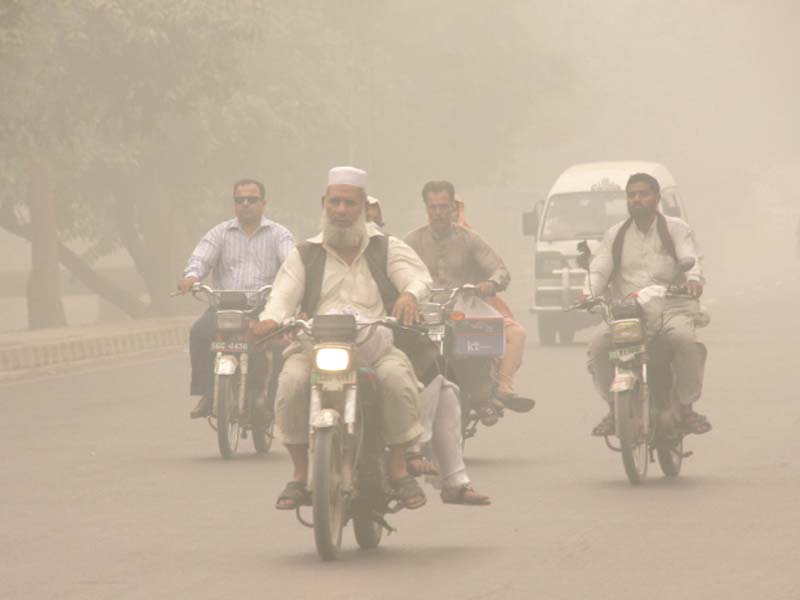 ---
LAHORE:
The Lahore High Court (LHC) on Thursday ordered the Punjab government to issue an immediate notification directing 50pc of private-sector workers to work from home amid high levels of smog in the provincial capital.
Justice Shahid Karim heard a petition seeking the redressal of smog, with the focal person of the Judicial Commission submitting a report to the court. However, the court did not agree with the Judicial Commission's recommendation to close schools in areas with dangerous Air Quality Index (AQI) readings.
Earlier, the air quality in Lahore was declared 'very unhealthy' for the inhabitants after smog engulfed the entire city. The provincial capital has also been ranked as one of the most polluted cities in the world in recent days.
The report, submitted by the focal person of the Judicial Commission, suggested that action should be taken against those who burn crop residues on a daily basis and said the Punjab Disaster Management Authority should immediately report the burning of crop residues to the concerned deputy commissioner.
Read More: Smog challenge
According to the report, about 2,190 cases of burning crop residues had come to light out of which 98 people had been fined.
It recommended immediate closure of schools and commencing online classes in the areas where the AQI was 400 or above. Furthermore, immediate closure of factories in areas with an AQI of 500 or more was also recommended
The report further stated that more than 4,700 brick kilns were inspected across Punjab and fines of more than Rs30 million were imposed on the kilns, while 274 brick kilns were sealed. It further added that 797 cases were registered against kiln owners whereas 22 kiln owners were immediately arrested.
The report further revealed that more than 24,000 vehicles were inspected across Punjab. Warnings were issued to more than 8,300 vehicles emitting smoke.
More than 5,000 high-emission vehicles were fined more than Rs 4million whereas about 2,183 factories were inspected wherein cases were registered against 197 owners who did not install low-emission devices. About 245 high-emission factories were completely sealed.
COMMENTS
Comments are moderated and generally will be posted if they are on-topic and not abusive.
For more information, please see our Comments FAQ