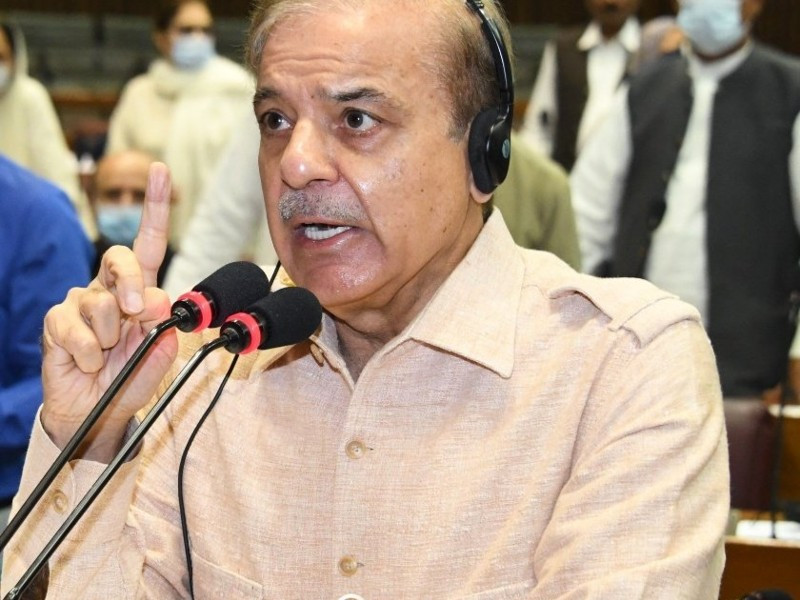 ---
ISLAMABAD:
Leader of the Opposition in the National Assembly Shehbaz Sharif on Wednesday raised alarms that the manner in which the government's much-anticipated joint sitting of parliament was being called had created doubts regarding NA Speaker Asad Qaiser's "partisan conduct", declaring it had seeded distrust.
In a letter to National Assembly Speaker Asad Qaiser just before the session, Shehbaz aired his grievances over the hurry in passing the bills without a consensus and bemoaned Qaiser's "disregard" for his proposals.
In a joint session marred by chaos, the government passed several bills on Wednesday. The ruling party successfully got its amendments to the Elections Act, 2017, passed and thereby allowing the use of electronic voting machines (EVMs) and giving overseas Pakistanis the right to vote in general elections.
However, the joint opposition in the national assembly vehemently rejected the legislation on the grounds that the treasury benches had bulldozed the bills.
"We want to remind you that in the history of Pakistan, legislation regarding elections has never been done in this unilateral manner; election laws have always been made with extensive consultation and consensus with all parties in Parliament," Shehbaz noted in the letter, regretting that the opposition was not allowed enough time.
Read Shehbaz slams decision to provide gas 'three times a day'
"Late last night we received less than 16 hours' notice from your office that the joint sitting of Parliament had been called to meet at 12 pm today. Is this how consensus on issues of national importance is achieved?"
He emphasised that the issues of national importance must be resolved through consensus and referred to his previous letter to the speaker, reminding the speaker that he had provided a comprehensive proposal to achieve a consensus on the bills.
"The indecent haste with which the joint sitting has been summoned places you in a controversial position because you had assured the joint opposition of adherence to parliamentary norms and precedents," he said.
"Your partisan conduct in handling these bills of national importance and the joint sitting of parliament has removed our confidence in you as custodian of the house," he stated and demanded that the speaker takes immediate action to "rectify this egregious wrong before today's joint sitting of parliament is convened".
COMMENTS
Comments are moderated and generally will be posted if they are on-topic and not abusive.
For more information, please see our Comments FAQ