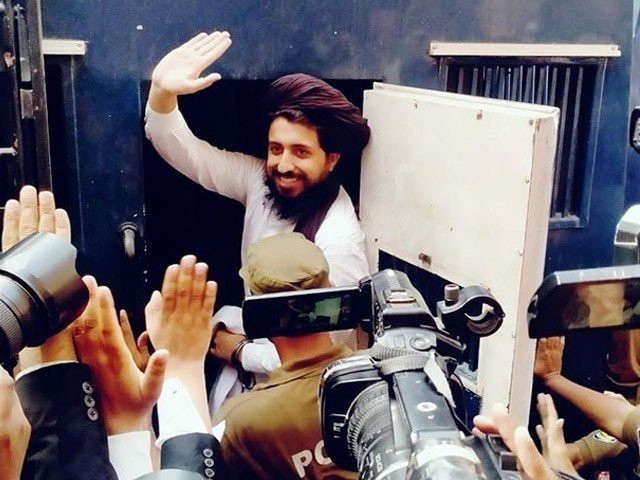 ---
LAHORE:
Leader of the Tehreek-e-Labbaik Pakistan (TLP) Saad Rizvi's name was taken off the Fourth Schedule of the Anti-Terrorism Act, 1997 by the Punjab government on Thursday.
According to the order, Rizvi was enlisted in the list on the "recommendations of the District Intelligence Committee, Lahore".
However, after the TLP was de-proscribed by the federal government, the name of Saad Rizvi was "deleted from the list of the 4th Schedule… with immediate effect".
The federal cabinet on Sunday revoked its earlier decision of declaring the TLP a "proscribed" organisation under the country's anti-terrorism law after it committed that it would abide by the Constitution and the laws of the country.
Read TLP awaits leadership's nod to call off protest despite 'agreement'
The cabinet approved the interior ministry's summary after the Punjab government proposed that the "federal government may consider de-proscription of the TLP" in view of the "larger national interest and long-term perspective to ensure that such incidents do not recur in the future".
Just six months after being outlawed, the TLP got a clean chit from the federal cabinet and its cases quashed as well as workers released from jails after reaching an agreement with the government.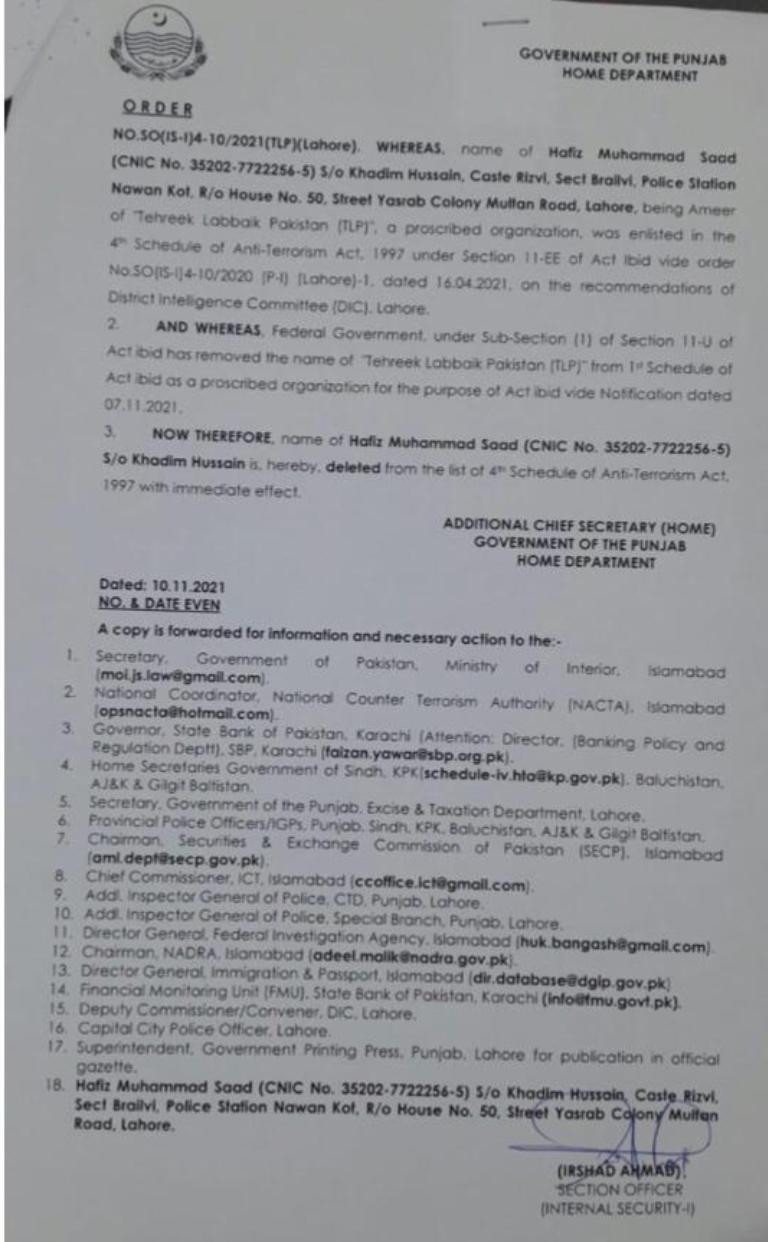 A copy of the order issued by the Punjab government available with The Express Tribune.
A day after the federal cabinet removed the TLP's name from the list of banned outfits, the religious political party announced an end to its sit-in in Wazirabad.
Main TLP leader Syed Sarwar Shah made the announcement, on November 8, saying that they (leaders, workers, and supporters) were now moving towards its headquarters – Masjid Rehmatul Lil Aalameen, Lahore.
"We hope that our detained leader Hafiz Saad Rizvi will be released before the first urs (death anniversary) of late TLP supreme leader Khadim Hussain Rizvi." He had passed away last year on Nov 19.
COMMENTS
Comments are moderated and generally will be posted if they are on-topic and not abusive.
For more information, please see our Comments FAQ