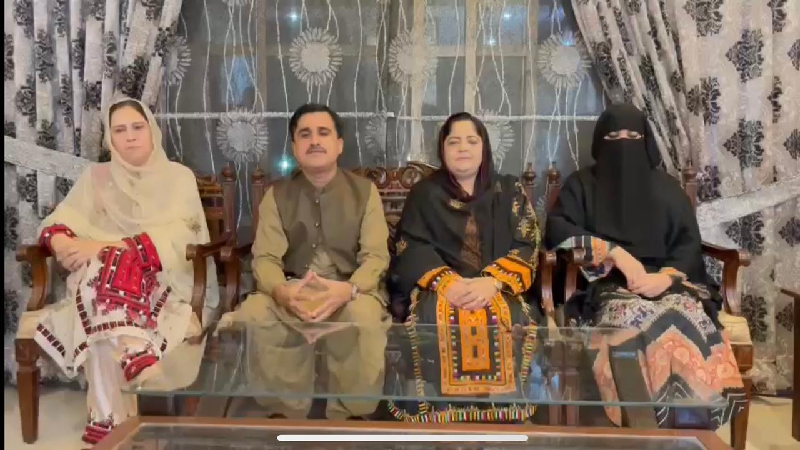 ---
ISLAMABAD:
Four Balochistan Assembly members, who were presumed 'missing' after they skipped an assembly session earlier this week when the no-confidence motion against Chief Minister Jam Kamal Khan was tabled, surfaced in Islamabad on Friday and denied the "rumours" about their "detention".
The MPAs, Akbar Askani, Bushra Rind, Laila Tareen and Mahjabeen Shirani, all belonging to the Balochistan Awami Party (BAP), announced in a video message that they would be reaching Quetta on Saturday (today) and reiterated their support for the no-confidence motion.
In the video, Askani said that some friends "spread rumours which I strongly deny". He added that he had come to Islamabad for some work. "I am with [Balochistan] Speaker Abdul Quddus Bizenjo and am arriving in Quetta today. Today we are joining our group," he said.
Also read: Negative propaganda by MPAs unwarranted: CM Kamal
The four MPAs were conspicuous for their "no-show" during Wednesday's provincial assembly session in which a no-trust motion was tabled against CM Kamal. The motion was backed by 34 members of the 65-strong house.
Balochistan Food Minister Abdul Rehman Khetran, who moved the no-trust motion, had alleged that five of their members had gone "missing", fearing that five more would also go missing in the next few days in a bid to fail the motion.
Clarifying the rumours in a video on Twitter on Thursday, Kamal termed the accusation regarding missing lawmakers uncalled for, saying that the "negative propaganda" was unwarranted. "Some members had to correct them that they were not missing and were there," he added.
In the video message, Shirani said that they could not reach the assembly on the day of the tabling of the no-confidence motion due to some personal engagements.
Fellow lawmaker Bushra Rind said: "We are and will remain with our group."
COMMENTS
Comments are moderated and generally will be posted if they are on-topic and not abusive.
For more information, please see our Comments FAQ