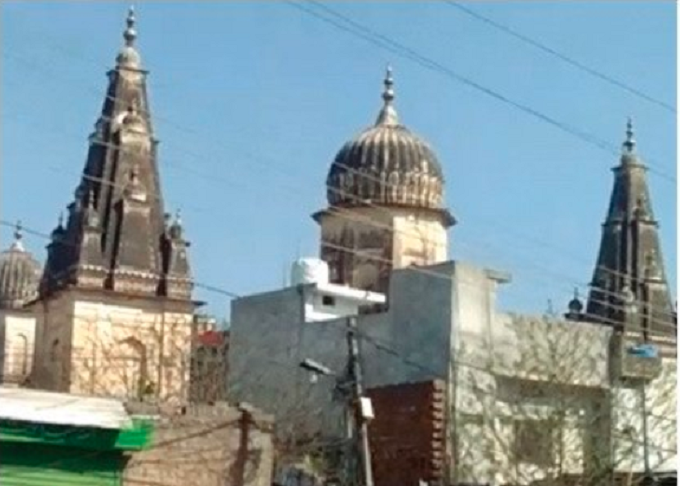 ---
RAWALPINDI:
Restoration of seven Hindu temples has been put on the back burner since Rawalpindi ex- commissioner was arrested on corruption charges.
The delay is expected to swell the cost of the project, which was estimated to be around Rs50 million.
Rawalpindi ex-commissioner Muhammad Mehmood was held after his alleged involvement in the Ring Road corruption scandal, a month before the project's commencement. Hence, the rehabilitation project of seven temples around Sujan Singh Haveli in Shah Chan Chiragh neighborhood, Bagh Sardaran, Chatian Hatian, Pul Shah Nazar Diwan, Lunda Bazaar and Dangi Khoi has not been initiated yet.
The 75-year long closure of the Hindu temples has turned them into a 'ghost house'. The furniture has been stolen and the iron fittings have been removed and sold by drug addicts.
Read Karak temple row far from over
The walls of the historic temples are in a crumbling state and the structures, which were once a depiction of Mughal architecture, now replicate ruins.
All these worship sites are up to 40 feet high and people live in their residential quarters until Aukaf department evicted them. All Pakistan Hindu Panchayat President Om Prakash Narain said rehabilitation of the temples was one of the best projects of the RDA. Therefore, work should be started on the project soon to promote religious tourism.
RDA Vice Chairman Haroon Kamal Hashmi said that the project has not been terminated. The project is under consideration and a delay in its commencement cannot be ruled out.
Published in The Express Tribune, October 18th, 2021.
COMMENTS
Comments are moderated and generally will be posted if they are on-topic and not abusive.
For more information, please see our Comments FAQ