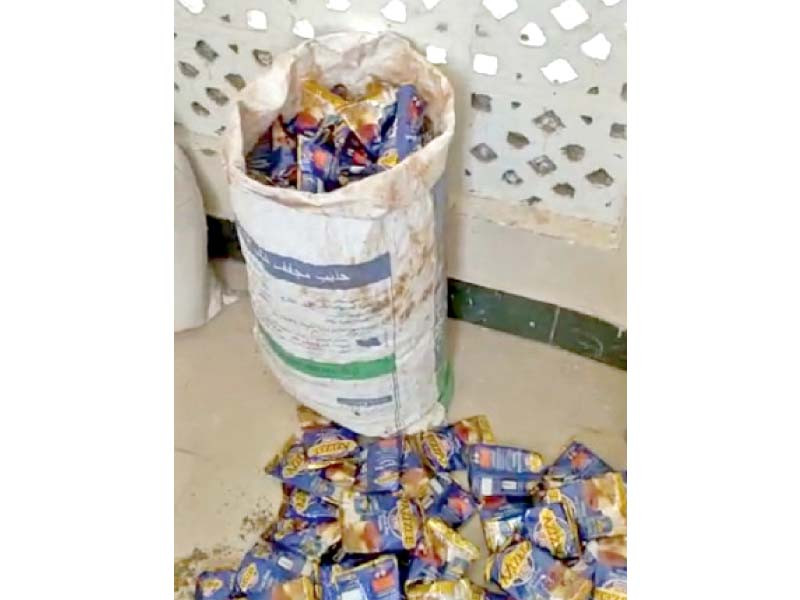 ---
KARACHI:
Following orders from top brass, police have resumed operations against manufacturers and sellers of gutka and mawa across the city on Friday.
The highly addictive tobacco chews, gutka and mawa, contain besides tobacco, limestone, betel nuts and in some cases sweeteners.
Several suspects were arrested from different areas. However, while the police are catching gutka sellers, sale of cancerous product continues throughout the city. According to details, Shah Latif Town police raided gutka manufacturing factories and recovered a large quantity of gutka and the item used in its manufacture. The accused had set up a secret room for making gutka.
According to police officials, acting on a tip-off, police raided a house but found nothing. Some seasoned cops suspected a wall and smashed it with hammers and there it was, a stash gutka and machinery too.
Separately, Chakiwara police raided a gutka and mawa factory running on the rooftop of a house in the Chakiwara area of Liyari. Police seized over 85kgs of tobacco, 100kgs betel nut, mixer machine and other ingredients from Yasir Nasir.
Read More: 'Obesity greater health risk than alcohol or tobacco'
Two more raids were conducted in the city in which four suspects Shehzad, Ismail, Hussain and Sajjad were arrested. Further investigation has been started by registering cases against the accused.
Besides, Liaquatabad police also arrested seven suspects on charges of selling gutka. They include Abdul Latif, Adnan, Owais, Muneeb, Sajid and Raheel and recovered a large quantity of Gutka from their possession. Further investigation has been started by registering cases against the accused. It may be recalled that a high level meeting was held on Thursday in which the police was directed to start crackdown against the sellers of Gutka.
Published in The Express Tribune, October 16th, 2021.
COMMENTS
Comments are moderated and generally will be posted if they are on-topic and not abusive.
For more information, please see our Comments FAQ