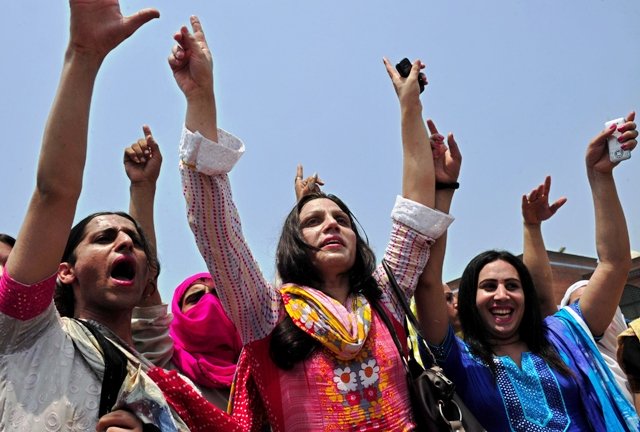 ---
HARIPUR:
The Haripur police have initiated action against eunuchs who were impersonating themselves as transgender persons.
Haripur District Police Officer had issued strict orders to station house officers, senior police officers and district police officers across the district.
Sources said that eunuchs were tarnishing the image of real transgender persons.
They said that consumption of drugs has become commonplace at their dens and private dance parties.
The sources also said their houses have become a nucleus of illicit activities, which was constantly taking a toll on the youth of Haripur.
According to the sources, the Hazara division Deputy Inspector General of police had taken notice of public complaints and issued immediate orders to all DPOs to initiate action against fake eunuchs and the people who have rented out their houses to them and submit a report.
The sources said that in different areas of Haripur, including Darband Adda, Chappar Road, GT Road, Pandak Road, Talukar Road houses of eunuchs have become a hub of debauchery.
Sources said that those elements who are not good at dance resort to begging.
The sources claimed that several government employees, including police personnel, also join private parties of these elements, which continue throughout the night. These fake eunuchs have also influenced many youngsters to follow in their footsteps.
Read More: Transgenders demand inquiry into attack
Meanwhile, Shemale Association President Saima Shaukat said that she had already written to the police against such elements during different meetings.
She said that transgender persons were also facing financial and social problems because of these impersonators.
She said that the association has over 30 registered transgender persons in Haripur city who have certificates as well.
Saima denied having any association with fake eunuchs who were involved in illegal activities.
She said that they have suggested that only transgender persons having their organisation's card should be allowed to live in the city.
A male eunuch Faisal said that some eunuchs chose this field because of economic conditions.
He said most of the eunuchs were married and they also have children. "Everyone's goal is to earn money," he said.
DPO Haripur Kashif Zulfiqar said on social media urged parents to spend time with their children and monitor their activities. He urged people to immediately report the illegal activities of transgender persons to the police.
Published in The Express Tribune, October 13th, 2021.
COMMENTS
Comments are moderated and generally will be posted if they are on-topic and not abusive.
For more information, please see our Comments FAQ