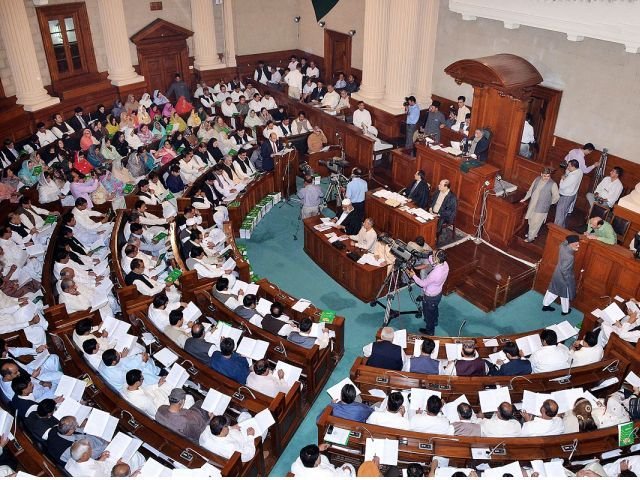 ---
LAHORE:
Lawmakers from both the treasury and the opposition benches showed a lack of interest in attending the question-answer session which is considered the most vital segment of the Punjab Assembly's agenda.
Total 33 questions were called by Deputy Speaker Sardar Dost Muhammad Mazari while 21 questions were disposed of owing to the non-availability of the MPAs from both sides.
Only one Pakistan Tehreek-e-Insaf's (PTI) woman MPA Ayesha Iqbal seemed satisfied with the answer she had put to the government's department while four MPAs of the Pakistani Muslim League-Nawaz (PML-N) did not satisfy with the details provided by the government's department.
The atmosphere of the assembly slightly turned unpleasant when Parliamentary Secretary of Colonies Ghazanfar Abbas Shah denied giving an answer to PML-N's MPA Sohaib Ahmed Malik over shouting at him while seeking details of a question. However, Deputy Speaker Sardar Dost Muhammad Mazari directed Sohaib to sit down.
On the other hand, speaking on a point of order PTI's MPA Sardar Shahbudin expressed his dissatisfaction over Provincial Law Minister Basharat Raja's assurance that government will send officials to visit Layyah's areas where some houses had been inundated by Layyah River.
Read Govt makes effort to complete quorum
Meanwhile, Panel of Chairmen Mian Muhammad Shafi seconded the law minister's statement saying the areas should be visited.
At which MPA Shahabudin said he has no trust in this statement he needs ruling from the Panel of Chairmen.
After that MPA Muhammad Moavia of Pakistan Rah-e-Haq party (presently sitting at the treasury benches) seemed dissatisfied with the assembly's business being carried out in the name of 'very important business.'
He said he had orders of 10 deputy commissioners who had banned his entry into ten districts. He asked the government what wrong he had committed. If he did something wrong he should be arrested from the forum of the assembly.
He requested the government to probe the matter and bring the responsible to book who issued these orders. The provincial law minister assured MPA Moavia that the matter would be probed.
Later, the opposition pointed out quorum. The panel of chairmen ordered to ring the bells for five minutes. Finally, the house was adjourned for Monday 2:00 pm after the treasury benches could not meet the required number of legislatures.
Published in The Express Tribune, September 25th, 2021.
COMMENTS
Comments are moderated and generally will be posted if they are on-topic and not abusive.
For more information, please see our Comments FAQ