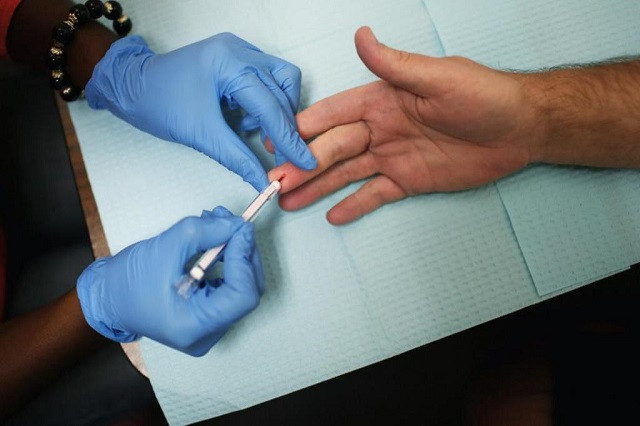 ---
LAHORE:
An uptick in the number of the life-threatening acquired immunodeficiency syndrome (AIDS) cases across the country's most populous province has led its health department to rethink its strategy on curtailing the spread of the disease.
Punjab's active cases across its 36 districts has reached 13,000 as per the provincial health department. To combat this number the department plans on expanding the scope of diagnosis for the chronic disease to all districts under the Punjab AIDS Control Program so that more people can be screened and treated in their area.
Dr Faisal Masood, Project Director of the Punjab AIDS Control Program, while talking to the Express Tribune, said, "the Department of Primary and Secondary Health is conducting free screening tests and providing medical aid by setting up camps at AIDS hotspots like truck depots and prisons."
Masood stated that so far 1,850,368 targeted screening tests had been conducted in Punjab and diagnosed patients were being provided medicines and treatment consistently. "Presently, medical facilities are being provided to AIDS affectees in 25 centers in 16 districts of the province," he informed.
However, the challenge that the health department faces, as per sources, is patients with the disease that do not seek any formal treatment due to the social stigma attached with having AIDS.
Read Free treatment for HIV/AIDs: Dr Rashid
A behavior which in turn leads to unreported cases and further spread of the disease. Sources said that most of the AIDS patients who visit the centers, take their medicine, and later disappear suddenly because of fear of being ousted as patients of the disease.
Several diagnosed with the disease, at a center in Lahore, when approached by the Express Tribune, refused to give comments. However, a patient, who was a resident of the city, speaking under the condition of anonymity, said that he contracted the disease through the use of injections while he was intoxicated and now no one liked him because they were afraid that they would get AIDS by being in his presence.
"Even my family does not interact with me anymore, so these days my life is just coming to this center for medication and living in solitude," he lamented.
Central General Secretary of Young Doctors Association (YDA) Dr Salman Kazmi, commenting on patients' preference to hide their AIDS diagnosis, said, "patients shy away of speaking up about their disease to the outsiders because the society does not empathize with victims of aids due to prevailing stereotypes and stigma associated with it. From what I have seen, most AIDS patients seek medical help secretly."
The province's AIDS Control Program's Project Director did not offer any solutions on how the stigma associated with the disease could be reduced along with the rising numbers. However, Masood said that the objective of the camps they organized apart from screening is to provide counseling to those with the disease so that they too could lead a normal life.
Published in The Express Tribune, September 24th, 2021.
COMMENTS
Comments are moderated and generally will be posted if they are on-topic and not abusive.
For more information, please see our Comments FAQ