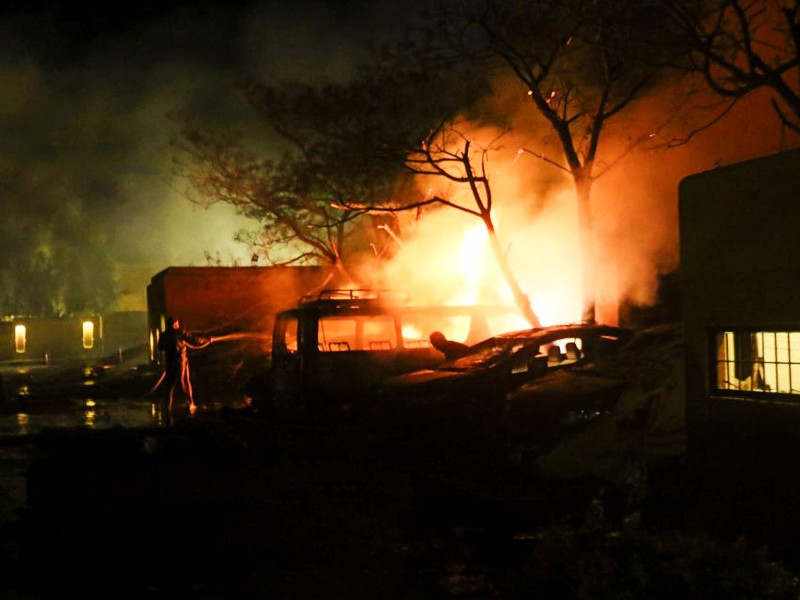 ---
DIJKOT:
A fire broke out in a gas cylinder shop on Sammundri Road after which the cylinders kept exploding one after the other, spreading fear and panic in the area. Rescue 1122 teams managed to control the fire after hours of hectic efforts.
Police launched raids to find the shopkeeper. According to the police report, one of the workers at the shop suffered minor burns. Rana Mubashir, the son of Yasin, and Amjad Baig, a resident of 262RB, had set up a gas refilling shop on Sammundri Road where Imran Ahmed was an employee who used to fill gas cylinders in vehicles, cars, buses and other wagons.
On the day of the incident, Imran was at the shop where he was reportedly smoked. He threw his cigarette butt near the cylinders.
A gas leak from a cylinder caused a sudden fire. As a result of the incident, the cylinders lying in the shop kept exploding one after the other due to which the intensity of the fire increased. The series of explosions reportedly spread fear and panic in the area. Rescue 1122 teams with the help of police evacuated the area as the shop was in a residential area and took part in rescue operations.
Flames of the fire were reportedly visible from a distance. Rescue 1122 District Emergency Officer Ehtesham Wahla reached the spot and took part in the rescue operation under his supervision and controlled the fire.
COMMENTS
Comments are moderated and generally will be posted if they are on-topic and not abusive.
For more information, please see our Comments FAQ