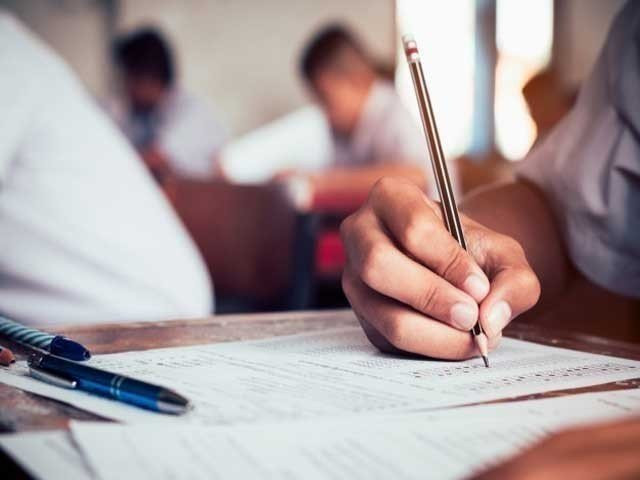 ---
LAHORE:
Under a new examination policy of the federal education ministry, annual examinations for matriculation and intermediate classes will be held twice a year.
However, the supplementary exams will be abolished.
The candidates will be eligible to appear for the annual exams of their classes after every six months.
Previously, the candidates of a class were enrolled for the annual examination only and no new enrollment was allowed for the supplementary examinations.
The federal ministry has reportedly introduced the policy to bring the annual examinations organised by the boards of secondary education across the country in line with the international examinations.
Under the new system, every candidate will be able to appear in the exam of his choice after every six months in the style of O-Levels and A-Levels. The boards will abolish supplementary tests and conduct annual examinations every six months.
It will be possible for a candidate to appear in the examinations in parts or combined. The choice will be available to both private and regular candidates. An age limit will be fixed for aspiring candidates for professional degrees.
Read Matric, Inter students unclear about syllabus
Suggestions have been sought from all boards in this regard.
Sources in the education ministry said holding the examinations every six months rather than arranging supplementary exams would facilitate the students but the work of the boards would increase. They said the move would save a precious year of every student who is unable to enroll for the exams in time because of any reason.
According to sources in a board of secondary education, the federal ministry has shared the proposal and and work on it will be completed this month.
Commenting on the proposal, a student in Lahore, Sheharyar, said the academic session already lasts six months and the rest of the time is spent in revision, preparation and examination. Another school student, Rameezah, said in reply to a question that a system compatible with the international standards should be adopted.
There are frequent complaints of exessive pressure on the students during the secondary and intermediate exams to achieve a high grade.
Speaking to The Express Tribune, a teacher said the examinations had become so crucial and competitive that the social and personal life of the youths was affected.
He said the teachers would support holding the exams twice a year with the option for the students to appear in some or all subjects at a time.Such a system would alleviate the stress of the students and their parents.
The sources added that if the exams are held twice a year, the board examinations of class nine and 11 may be abolished. The final exams of matriculation and intermediate levels would be held to issue the certificates to the successful candidates.
Published in The Express Tribune, September 18th, 2021.
COMMENTS
Comments are moderated and generally will be posted if they are on-topic and not abusive.
For more information, please see our Comments FAQ