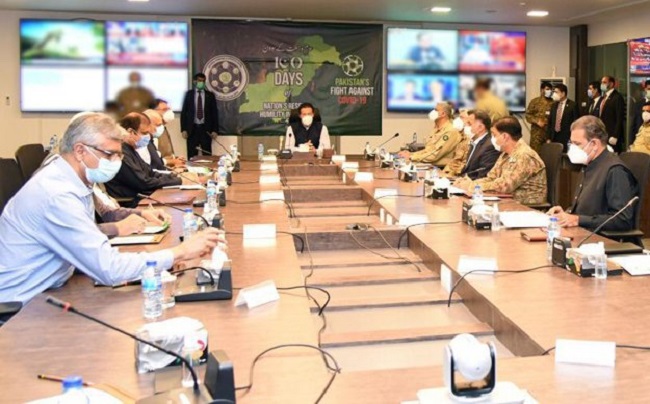 ---
ISLAMABAD:
The National Command and Operation Centre (NCOC) reported on Wednesday that 10,923 coronavirus patients made full recovery from the infectious disease during the past 24 hours, reducing the number of active cases from 85,886 the other day to 77,532.
The NCOC, which serves as the nerve centre of the government unified national effort against the pandemic, said in its daily update that 2, 714 more people tested positive for the deadly virus during the last 24 hours, while 73 patients, including 62 in hospitals, breather their last.
Since the pandemic outbreak, a total of 1,212,809 cases were detected – 33,490 in Azad Kashmir, 32,658 in Balochistan, 10,198 in Gilgit-Baltistan, 103,293 in Islamabad, 169,429 in Khyber-Pakhtunkhwa, 416,901 in Punjab and 446,840 in Sindh.
Around 1,108,339 people have recovered from the disease so far across Pakistan making it a significant recovery ratio of more than 97%. Among the active cases, the NCOC said that 5,761 patients were admitted in various Covid-dedicated health facilities across the country.
As of Wednesday, the nationwide death toll stood at 26,938. The highest death toll has been recorded in Punjab, where 12,291 people perished since the pandemic's outbreak in February last year. The second highest death toll is in Sindh, where 7,192 have died.
More vaccine doses
Meanwhile, Pakistan received another batch of 3.5 million Pfizer anti-Covid vaccines from the United States on Wednesday. This takes the total "number of Covid-19 vaccine doses donated by the United States to Pakistan to 15.7 million," the US Embassy in Islamabad said in a tweet.
Earlier, the US had shipped 6.6 million doses of Pfizer vaccine to Pakistan through COVAX. Two days ago, the Sindh government received 320,580 Pfizer vaccine doses sent by the US through the COVAX facility, the US State Department said in a press release. According to the government's official Covid portal, a total of 22,873,298 people have been fully vaccinated in the country as of Wednesday.
(WITH INPUT FROM APP)
COMMENTS
Comments are moderated and generally will be posted if they are on-topic and not abusive.
For more information, please see our Comments FAQ