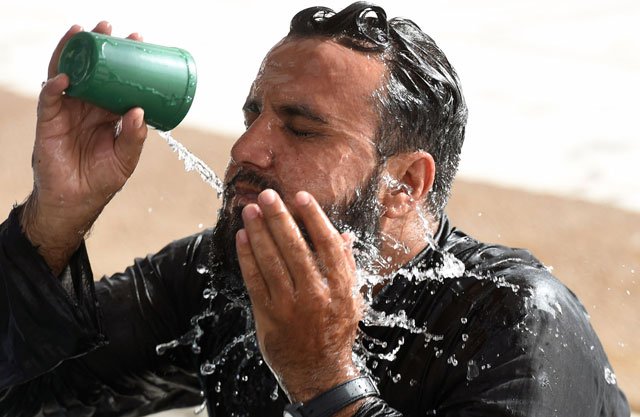 ---
KARACHI:
The Pakistan Meteorological Department has forecast a four-day heat wave in the metropolis beginning today. Mercury may hit up to 40 degrees Celsius with the suspension of sea breeze and gusts of hot winds from Balochistan, stated the PMD in its advisory issued on Monday.
According to the PMD, the low pressure in the Bay of Bengal has turned into a depression after further intensification and it is currently present in Rajasthan, India and eastern Sindh.
Under the influence of this system, the weather in Karachi is expected to remain hot and dry from September 14 (today) to September 17.
The advisory elaborated that during this hot spell, the southwestern sea breeze is likely to remain suspended. Gusts of hot wind blowing from the northwestern deserts of Balochistan are likely to add to the intensity of the heat.
Read More: PMD forecasts high temperatures in Karachi for next two days
Elaborating further, Karachi Chief Meteorologist Sardar Sarfraz said that the prevailing low pressure-system has shifted to the East, eliminating the possibility of more rain in Karachi. However, he added the effects of the system may prompt rainfall in rural Sindh till September 19.
Published in The Express Tribune, September 14th, 2021.
COMMENTS
Comments are moderated and generally will be posted if they are on-topic and not abusive.
For more information, please see our Comments FAQ