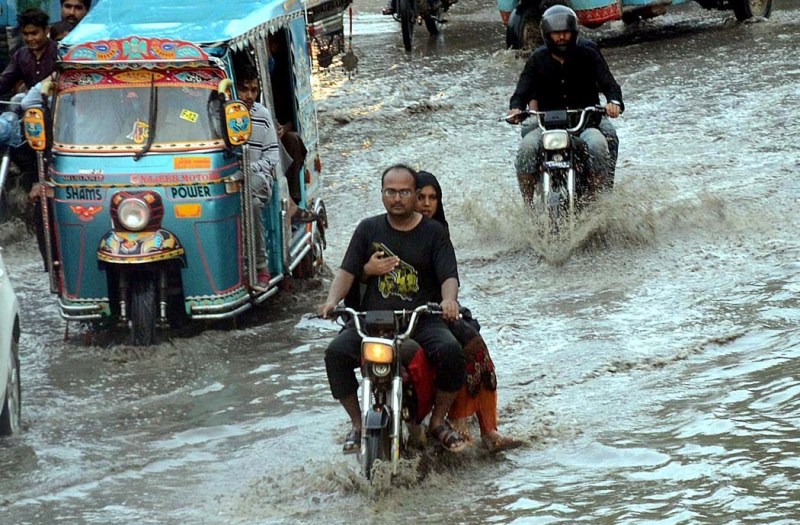 ---
KARACHI:
The Pakistan Meteorological Department (PMD) issued on Sunday a forecast for hot weather and rains in Karachi, predicting the temperature to go up as high as 39 degrees Celsius this week.
"Yesterday's low pressure over Rajasthan has shifted to the east with its trough extending westwards," the PMD's weather outlook stated.
Due to this, isolated rains, along with thunderstorms, may occur in Tharparkar, Umerkot, Sanghar, and Badin, it added.
Read Experts urge use of biotech to counter climate change
According to Express News, PMD's chief meteorologist Sardar Sarfaraz has said that the heatwave is likely to start from September 14 (Tuesday). Due to reduced sea breeze and hot desert winds from Balochistan blowing towards the city, the temperature may rise, he added.
Sarfaraz further said the heatwave would be caused by low air pressure in the Bay of Bengal, and that a new monsoon cycle, from September 17, could cause rain in the city that may last till September 20.
Karachi faced intense heat last week as well as intermittent rains in various areas. The met office has said that Karachi has received 60% less rainfall than its regular monsoon season this year.
COMMENTS
Comments are moderated and generally will be posted if they are on-topic and not abusive.
For more information, please see our Comments FAQ