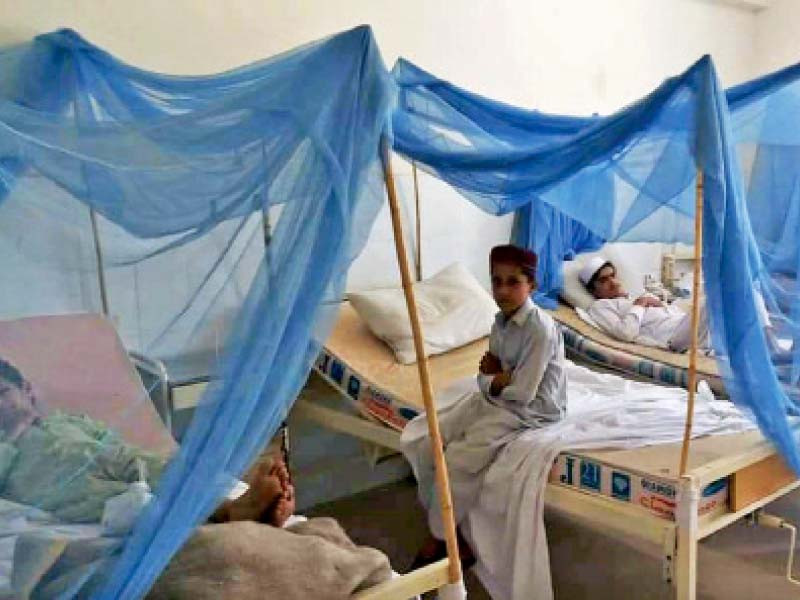 ---
PESHAWAR:
Around 59 confirmed cases of Dengue have been detected in Khyber tribal district of Khyber-Pakhtunkhwa (K-P).
Social media, however, has been painting a grim picture claiming that hundreds have been affected and two have died because of the Dengue.
Talking to The Express Tribune Focal Person Integrated Vector Management Program (IVMP) Dr Khalid said that the first case of Dengue was reported on July 14 from Landi Kotal Tehsil and so far they have recorded 59 cases in total.
"We don't recognize the private labs tests because additional tests are required to confirm it in the presence of Covid-19 pandemic. And our own tests confirmed 59 cases in the districts," he said, adding that for the past 14 days they have not received any new cases from the areas where Dengue was first detected.
"We receive two or three cases a day. Now Sultan Khel is the main area where Dengue is spreading. We have arranged sprays but it is beyond our resources to go for a door-to-door spray. Our officials are working but they are overburdened due to Covid-19," he said, adding that reports of two deaths circulating on social media were baseless.
"Beds are available for patients in the hospitals and so far not a single person has died of Dengue in the district. People should cooperate with us by removing the breeding sites of mosquitos around them," he said.
Health Department's teams have been sent to the affected areas where they checked the residential houses and godowns for breeding sites and collected water samples for the presence of larva. The breeding pools of the mosquitoes were destroyed.
Local residents told The Express Tribune that the Dengue was widespread and many people were having the typical fever and private labs were also confirming it.
"Most of the people want to stay home and consult private doctors. They avoid going to the hospitals," said a local resident, blaming that the government turned a blind eye to the situation. Dengue outbreak occurs each year in the area.
On the other hand, a Dengue awareness walk was organized by the health workers in Sultan Khel which is the most affected area in Landi Kotal. People were advised to remove standing water pools inside and outside their residences where mosquito breed.
Published in The Express Tribune, September 8th, 2021.
COMMENTS
Comments are moderated and generally will be posted if they are on-topic and not abusive.
For more information, please see our Comments FAQ