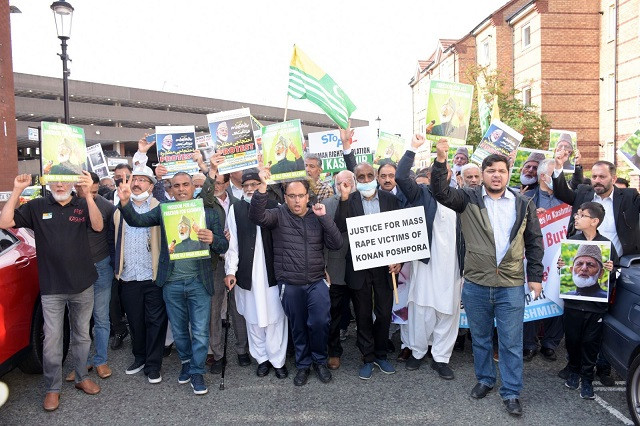 ---
LONDON:
Hundreds of British Kashmiris on Saturday protested against the forced burial of former Chairman of All Parties Hurriyat Conference (APHC) and prominent Hurriyat leader Syed Ali Geelani by occupation forces in Indian Illegally Occupied Jammu and Kashmir (IIOJK)
The protesters gathered outside the Indian consulate in Birmingham and other cities of the UK on the call of Tehreek-e-Kashmir (TeK).
The protesters chanted anti-India and pro-freedom slogans for Kashmir while criticising the inhumane treatment of the body of the deceased Kashmir leader by Indian troops.
The protesters were carrying Geelani's pictures and shouting the slogans, "We are all Geelanis and we will continue his mission".
Addressing those in attendance, President TeK UK, Raja Fahim Kayani said the deceased leader was the face of the Kashmiri freedom struggle who challenged India's hegemonic rule over IIOJK for decades.
Kayani added, "Geelani had been fighting India since the early 1960s and was imprisoned for almost 10 years after 1962 and was often restricted to his home afterwards."
Also read Ali Geelani laid to rest in Srinagar amid curfew
Other Kashmiri community leaders Khawaja Muhammad Suleman, Mushtaq Hussain, Khawaja Inam-ul-Haq, Qamar Abbas, Liaqat Lone, Yousaf Farooq, Azam Farooq and Sardar Aftab said India had murdered the Kashmiri leader by putting him under house arrest since 2008.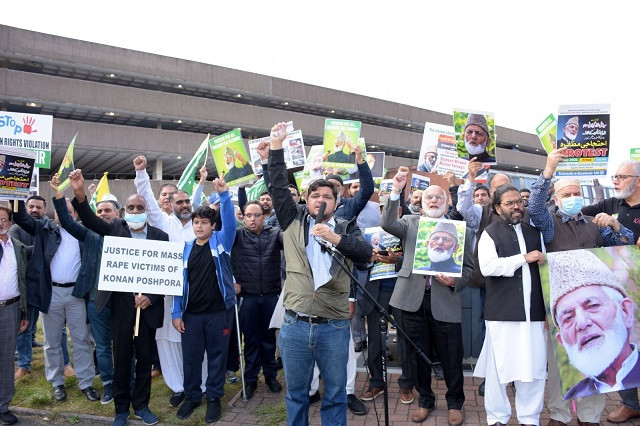 This caused several health issues to Geelani and he died without receiving a proper medical treatment, they added.
Speaking on the occasion, President TeK Europe, Muhammad Ghalib said that India's act of barbarism of snatching Geelani's body and forcibly burying him in a quiet funeral at a local graveyard under harsh restrictions was inhuman and amounted to the worst kind of human rights violations.
Anti-India protests were also held in In the other parts of the UK, including Nelson and Dewsbury. The funeral prayers in absentia were also held in Luton, Walsall, Leeds and other cities in the different countries of Europe.
A day earlier, Pakistan summoned Indian Charge d' Affaires to the Foreign Office and conveyed a strong demarche on Indian occupation forces' "callous and inhuman" handling of the mortal remains of the iconic Kashmiri leader.
He was laid to rest after a tightly controlled pre-dawn funeral on Thursday as Indian authorities imposed a lockdown across in Indian Illegally-occupied Jammu and Kashmir (IIOJK).
The uncompromising campaigner against the Indian occupation of Kashmir, died late on Wednesday at the age of 92, following a long illness while under house arrest by the Indian forces.
COMMENTS
Comments are moderated and generally will be posted if they are on-topic and not abusive.
For more information, please see our Comments FAQ