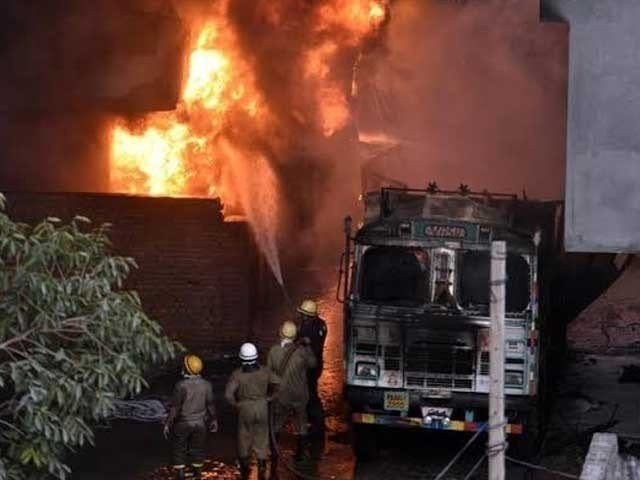 ---
KARACHI:
Police have registered a case against the owner and other officials of a factory in Karachi where 16 labourers died in a horrendous fire on Friday.
Among those booked at the Korangi Industrial Area police station are factory owner Ali Mehta, manager Imran Zaidi, two supervisors Zafar and Rehan and security guard Syed Zareen.
The case has been registered under Sections 322 (punishment for murder) and 34 (acts done by several persons in furtherance of common intention) of the Pakistan Penal Code.
The FIR stated that the factory did not have an emergency exit or an emergency alarm in case of an untoward incident.
"The building is built in such a way that nobody can leave if there is an emergency situation," it read.
"There was no alarm system in the factory either and that the janitor was asked to open the lock."
Sharing a copy of the FIR on Twitter on Saturday, Karachi Administrator Murtaza Wahab wrote that a "proper investigation has been initiated in this case and justice will be ensured".
In a separate statement, Wahab said the families of those killed in the fire would receive Rs1 million as compensation by the provincial government.
"The provincial government stands with the heirs of the deceased during this difficult time," he added.
Read 16 die in Karachi factory blaze
He said those injured in the fire were being provided the best possible medical treatment.
A day earlier, a blaze erupted at a leather bag manufacturing factory in Mehran Town area of Korangi in Karachi, killing at least 16 labourers and injuring five others.
Fire brigade officials declared the blaze to be a third-degree fire.
As the owner of the factory had installed grills on the windows, the workers were trapped inside.
A large number of labourers were present in the factory when the fire erupted at around 10 am.
Those on the ground floor managed to escape. However, those on the first and second floors were not that lucky. They rushed to the roof but found it to be locked.
The bodies and the injured were taken to the Jinnah Postgraduate Medical Hospital. The victims died of burn wounds or asphyxiation.
Fire brigade officials said the grills on the windows of the factory also hindered the fire-fighting and rescue operation, adding that there were no fire extinguishers there.
Fire Officer Saeedullah said 12 vehicles, snorkels and bowsers were used to douse the flames.
He added that the presence of thinner, kerosene and glue in the factory helped spread the fire rapidly.
Following the incident, the Korangi assistant commissioner sealed the factory.
COMMENTS
Comments are moderated and generally will be posted if they are on-topic and not abusive.
For more information, please see our Comments FAQ