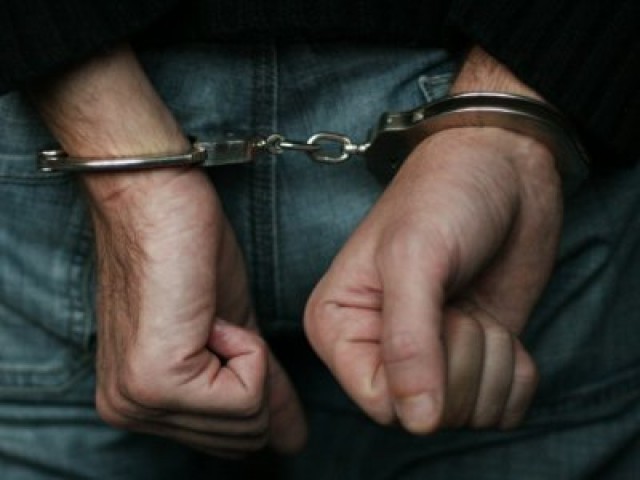 ---
KARACHI:
The police arrested on Thursday a suspected robber who allegedly opened fire at a citizen while looting him near the Safari Park Flyover, University Road.
Police said the suspect, identified as Amir, is part of a gang of thieves and a weapon and a motorcycle were confiscated from him.
Earlier this month, four armed men had encircled a motorcyclist, Zafar Iqbal, near the Safari Park Flyover and robbed him off Rs78,000, his wallet and mobile phones, said the police.
A video of the snatching that happened on August 10 went viral on social media, prompting the police into action. The footage showed armed perpetrators beating up Iqbal. The Gulistan-e-Jauhar Police said the three other suspects have been identified as Ayaz, Tahir and Farooq and efforts are being made for their arrests.
Read More: Police arrest acid attack perpetrator
Separately, a case was registered at the New Karachi Industrial Area Police Station pertaining to a snatching on August 23, when armed perpetrators took away with Rs175,000 from a mobile trader.
According to the complainant, Sultan Ahmed, he had left his shop in Ayub Goth and was headed to a private bank to deposit money when four men on motorcycles cornered him and his son near a plot in Sector 12-C. Ahmed said he and son tried to run inside a towel factory to escape them but the snatchers held them at gunpoint and stole cash and other valuables.
The CCTV footage of the incident shows perpetrators clad in shalwar kameez looting the two men at the entrance of a towel factory.
Cops save 'robbers' from lynching mob
Separately, A passerby was injured as a policeman holding a pistol fell to the ground while protecting two suspects from a lynching mob.
Khawaja Ajmer Nagri Police arrested two brothers, Abdul Rehman and Kamran, from a house in Sector 5-B of North Karachi over allegations of committing robberies.
Weapons, mobile phones, women's purses, and cash was also recovered from the duo who had taken up residence in the area a few months ago.
Khawaja Ajmer Nagri Police Station SHO Inspector Nazim Rao and Head Muharar Imran Butt said that a squad from the precinct conducted a raid at house in Sector Five B-, North Karachi on the information of the presence of criminal elements. Residents of the area also gathered in large numbers on the scene.
The people wanted to lynch the alleged robbers and tried to pull them away from police custody. During the altercation, a policeman with a pistol in his hand fell to the ground and the weapon went off accidently, injuring a passerby, 27-year-old Shero Barkat, who was shifted to Abbasi Shaheed Hospital in a police van. Police are further investigating the arrested robbers.
Published in The Express Tribune, August 27th, 2021.
COMMENTS
Comments are moderated and generally will be posted if they are on-topic and not abusive.
For more information, please see our Comments FAQ