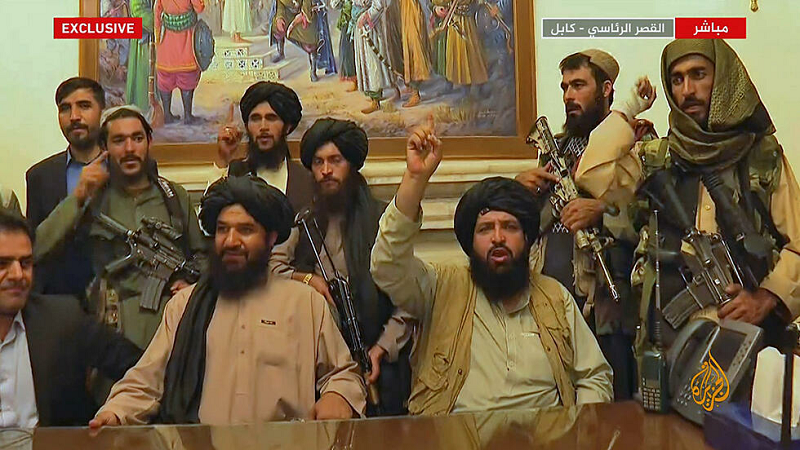 ---
ISLAMABAD:
Pakistan on Wednesday said the fall of Kabul at the hands of the Afghan Taliban cannot be characterised as a "military takeover" in what appears to be a major policy statement that may eventually lead to the recognition of the new government in the neighbouring country.
Islamabad has repeatedly stated that it would not recognise the Taliban regime if they took over Kabul by force. The country also took a similar stance at the troika plus forum, a grouping of Pakistan, China, Russia and the United States.
But in an interview with a local television channel, Pakistan's Ambassador to Kabul Mansoor Ali Khan dismissed the suggestion that the Afghan Taliban took over Kabul by force.
Read more: Putin, Xi ready to combat terrorism, drugs threats from Afghanistan
"It's not a correct interpretation that this is a military takeover," the ambassador replied when asked whether Pakistan would recognise the Taliban since it in the past opposed military takeover of Kabul.
He explained that on August 15 when the Afghan Taliban were at the gates of Kabul their leadership directed their fighters not to enter the capital.
However, after president Ashraf Ghani fled the country leading to the collapse of the government, the US and other western diplomatic missions confined themselves to the Kabul airport, the Taliban were left with no other option but to enter the capital, according to the ambassador.
Mansoor went on to say that the Taliban entered Kabul in order to prevent lawlessness and anarchy.
He further said that although the Taliban are practically in charge of the day to day affairs, they have not yet formally established the government.
According to him, it was time to move beyond this debate of military takeover and the focus should be on the next political dispensation.
He said it is important that the new setup has to be inclusive and broad-based where all Afghan players Pashtuns, non-Pashtuns or Taliban or non-Taliban are part of the government.
The statement by the ambassador, who is among the only four envoys currently stationed in Kabul, suggested that Pakistan is now looking to adopt a more pragmatic approach.
Also read: US on pace to complete Afghan pullout by Aug 31, Biden told G7
Official sources familiar with the approach argued that the Taliban rule was inevitable so Pakistan as well as other countries need to form their strategy accordingly.
Nevertheless, Pakistan is not in a rush to recognise the Taliban rule but its decision would be based on the regional and international consensus.
It is because of this reason that Foreign Minister Shah Mahmood Qureshi is currently undertaking a tour of regional countries.
Sources said that Pakistan would take other players particularly China, Russia and Iran on board before taking any major decision on Afghanistan.
Chinese President Xi Jinping and Russian President Vladimir Putin on Wednesday spoke by telephone and discussed the Afghan situation. The two leaders apparently outlined certain conditions under which they would be willing to recognise the new government in Afghanistan.
In a call with Putin, Xi reiterated China's position of non-interference and of respecting Afghanistan's sovereignty and independence, China's People's Daily reported.
The report said that Putin told Xi he shares China's positions and interests in Afghanistan and he is willing to work with China to "prevent foreign forces from interfering and destroying" Afghanistan.
Xi urged all parties in Afghanistan to build an open and inclusive political framework implement moderate, stable policies and cut ties with all terrorist groups.
Pakistan's stance is also in line with the position taken by Russia and China, seeking inclusive and broad-based government as well as urging the Taliban not to allow Afghan soil to be used by terrorist groups.
COMMENTS
Comments are moderated and generally will be posted if they are on-topic and not abusive.
For more information, please see our Comments FAQ