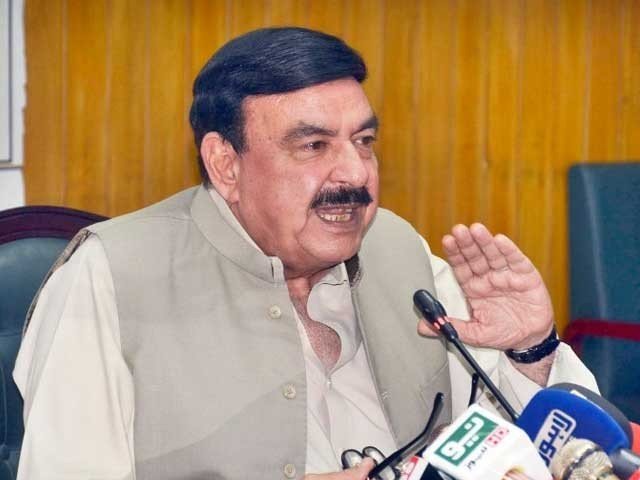 ---
ISLAMABAD:
Interior Minister Sheikh Rashid on Wednesday said Pakistan has repatriated at least 613 nationals from Afghanistan since the capture of Kabul by the Taliban in a lightning offensive.
Addressing a press conference in Islamabad, the federal minister said three buses with over 120 Pakistanis on board entered the country via the Chaman border crossing and added that efforts were afoot to repatriate the remaining citizens stranded in Afghanistan.
Rashid further said Pakistan has also evacuated about 900 diplomats and foreign media journalists from Afghanistan.
Speaking about the influx of Afghan refugees in Pakistan, Rashid said there were no refugees entering the country nor has Pakistan made preparation for Afghans seeking refuge in the country.
Read Explainer: How did the Taliban take over Afghanistan so quickly?
Rashid further said there was "complete peace and tranquillity" at Torkham and Chaman border crossings and they are open for movement, trade and transit visa facilities.
The interior minister added that Pakistan advocates peace and a peaceful and stable Afghanistan is in the interest of Pakistan.
He expressed confidence that the situation will improve in Afghanistan, saying Prime Minister Imran Khan tried to advise former Afghanistan president Ashraf Ghani but he didn't pay heed.
Rashid further said the decision to recognise the Taliban government in Kabul rested with the prime minister and the foreign ministry, adding that Pakistan played a key role in bringing the Taliban to the negotiation table.
According to the minister, a "hybrid war" is being waged against Pakistan through social media and added that the country will not interfere in the affairs of other countries nor will it allow others to intervene in its affairs.
Speaking about security arrangements concerning Ashura, Rashid said all law enforcement agencies were on high alert to avert any untoward incident on Muharram 9 and 10.
According to the minister, additional security personnel have been deployed for the security of mourning processions and mobile services have temporarily been suspended at some places for the security of the people.
The minister asked the participants of the processions to adhere to the SOPs to avoid the spread of COVID-19.
COMMENTS
Comments are moderated and generally will be posted if they are on-topic and not abusive.
For more information, please see our Comments FAQ