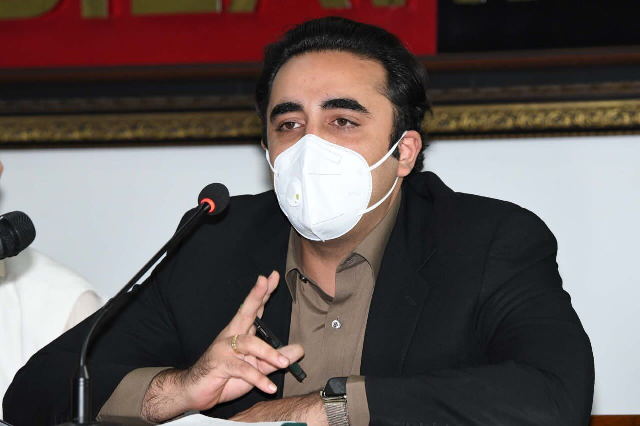 ---
KARACHI:
Pakistan Peoples Party (PPP) Chairman Bilawal Bhutto Zardari has said that the government must abandon the practice of appeasing terrorists and parliament should be taken into confidence over the ongoing situation in Afghanistan.
"The government should not be in a hurry to take a stand on the changing situation in Afghanistan," Bilawal said while addressing a news conference at the Chief Minister House after a meeting of the PPP Central Executive Committee (CEC) on the current situation in Afghanistan and the political situation in Pakistan on Tuesday.
Sindh Chief Minister Murad Ali Shah, Sherry Rehman, Raza Rabbani, Shazia Marri, Faisal Karim Kundi and Saeed Ghani were present.
The PPP chairman said he was concerned for the Afghan brothers and sisters, who have been facing decades of instability and violence with great courage and fortitude. Bilawal said he was concerned for all citizens of Afghanistan, especially women, youth and minority communities.
He urged that the citizens of Afghanistan should be allowed to observe the month of Muharram freely, and this was a litmus test for Afghanistan.
The PPP chairman said that he had been sounding a warning regarding the situation Pakistan could face.
"Now, the government of Pakistan should not fall prey to any expediency on the issue of terrorism, rather it should implement the National Action Plan," he maintained.
He said that there are various terrorist groups that have targeted Pakistan's citizens and security forces, and a clear message must be sent to such groups that the government of Pakistan would not tolerate such activities in the country.
He said the fall of Kabul and Afghanistan had coincided with terrorism incidents in Dasu, Quetta and Karachi.
If the government does not continue to implement NAP, there is a danger that such incidents will increase. "We should all hope for the best, but we should be prepared for any situation," the PPP chairman said.
Bilawal said that the security of CPEC projects should be reviewed and those working on them should be given full security.
He said that it was very important for the government of Pakistan to engage nationalist groups and reach out to them to find a peaceful solution and make them believe in a united Pakistan.
"The only way forward is to find a peaceful solution and address the grievances of disillusioned youth across the country who are finding their identities in nationalist causes," he added.
He urged the government to engage honestly and then stick to its promises. Bilawal that it is an immediate and preliminary response of the PPP to the current situation and over time its policies would evolve in line with the emerging situation.
He demanded of the government to take parliament into confidence on the situation in Afghanistan and follow the procedure of the Senate resolution in formulating a better foreign policy.
"Everyone is watching the situation in Afghanistan closely and encouraging it to negotiate a representative system that includes all communities. We can't rely on just fencing the border in Pakistan.
If the law and order situation in Afghanistan improves, we will not see the influx of refugees, but if that doesn't happen, we will see a mass exodus from Afghanistan into Pakistan," he said. Bilawal said that there was no doubt that Pakistan's policy should be clear that the people of Pakistan would not tolerate terrorism under any circumstances.
He said that the prime minister has taken a stand on every issue and then he has been taking U-turns which creates confusion and we cannot afford such incompetence at the moment.
"We need a clear policy, political consensus, and political will at this time. If there is no explanation from the government, the country will be mired in confusion," he added.
COMMENTS
Comments are moderated and generally will be posted if they are on-topic and not abusive.
For more information, please see our Comments FAQ