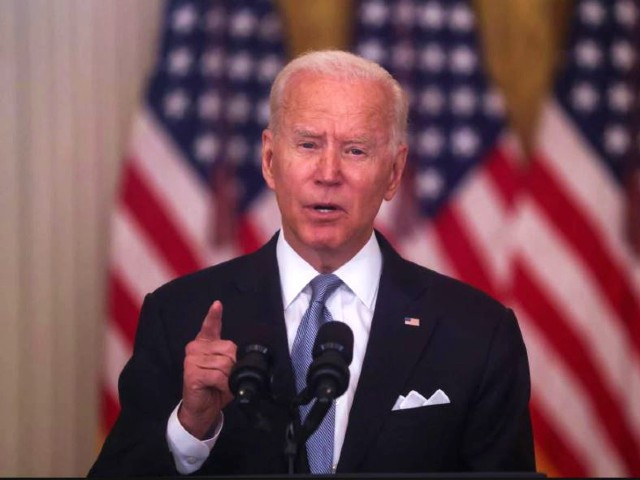 ---
WASHINGTON:
President Joe Biden on Monday strongly defended his decision to pullout US troops from Afghanistan and rejected broad criticism of the chaotic withdrawal that is posing a crisis for him.
Biden said the mission of the United States was never supposed to be nation building as he blamed the Taliban's takeover of the country on the unwillingness of the Afghan army to fight the militant group.
Thousands of civilians desperate to flee Afghanistan thronged Kabul airport's single runway on Monday after the Taliban seized the capital, prompting the United States to suspend evacuations as it came under mounting criticism at home.
Read more: Taliban declare 'war is over' as Ghani, diplomats flee Kabul
Five people were reported killed in the chaos. A US official told Reuters two gunmen had been killed by US forces there over the past 24 hours.
"I stand squarely behind my decision," Biden said. "After 20 years I've learned the hard way that there was never a good time to withdraw US forces. That's why we're still there."
"The truth is: this did unfold more quickly than we anticipated. So what's happened? Afghanistan political leaders gave up and fled the country. The Afghan military gave up, sometimes without trying to fight," Biden said.
Biden coupled his defence with a warning to Taliban leaders: let the US withdrawal proceed unimpeded or face devastating force.
The Taliban declared the war in Afghanistan over after taking control of the presidential palace in Kabul on Sunday while Western nations scrambled on Monday to evacuate their citizens amid chaos at the airport as frantic Afghans searched for a way out.
President Ashraf Ghani fled the country as fighters from the group entered the capital virtually unopposed, saying he wanted to avoid bloodshed, while hundreds of Afghans desperate to leave flooded Kabul airport.
Also read: Ghani flies out of Afghanistan as Kabul falls to Taliban
"Today is a great day for the Afghan people and the mujahideen. They have witnessed the fruits of their efforts and their sacrifices for 20 years," Mohammad Naeem, the spokesman for the Taliban's political office, told Al Jazeera TV.
"Thanks to God, the war is over in the country."
It took the Taliban just over a week to seize control of the country after a lightning sweep that ended in Kabul as government forces, trained for years and equipped by the United States and others at a cost of billions of dollars, melted away.
Al Jazeera broadcast footage of what it said were Taliban commanders in the presidential palace with dozens of armed fighters.
Naeem said the form of the new regime in Afghanistan would be made clear soon, adding the Taliban did not want to live in isolation and calling for peaceful international relations.
"We have reached what we were seeking, which is the freedom of our country and the independence of our people," he said. "We will not allow anyone to use our lands to target anyone, and we do not want to harm others."
Shame
A US State Department spokesperson said early on Monday that all embassy personnel, including Ambassador Ross Wilson, had been transferred to Kabul airport, mostly by helicopter, to await evacuation and the American flag had been lowered and removed from the embassy compound.
Hundreds of Afghans invaded the airport's runways in the dark, pulling luggage and jostling for a place on one of the last commercial flights to leave before US forces took over air traffic control on Sunday.
"This is our airport but we are seeing diplomats being evacuated while we wait in complete uncertainty," said Rakhshanda Jilali, a human rights activist who was trying to get to Pakistan, told Reuters in a message from the airport.
US forces managing the airport fired into the air to stop Afghans surging onto the tarmac to try to board a military flight, a US official said.
Read more: Explainer: How did the Taliban take over Afghanistan so quickly?
Dozens of men tried to clamber up onto an overhead departure gangway to board a plane while hundreds of others milled about, a video posted on social media showed.
The Pentagon on Sunday authorised another 1,000 troops to help evacuate US citizens and Afghans who worked for them, expanding its security presence on the ground to almost 6,000 troops within the next 48 hours.
'Failed experience'
UN Secretary-General Antonio Guterres urged all parties to exercise the utmost restraint and expressed particular concern about the future of women and girls.
In Washington, opponents of President Joe Biden's decision to end America's longest war, launched after the Sept 11, 2001, attacks, said the chaos was caused by a failure of leadership.
Biden has faced rising domestic criticism after sticking to a plan, initiated by his Republican predecessor, Donald Trump, to end the U.S. military mission by Aug. 31.
Senate Republican leader Mitch McConnell blamed Biden for what he called a "shameful failure of American leadership".
"Terrorists and major competitors like China are watching the embarrassment of a superpower laid low," McConnell said.
COMMENTS
Comments are moderated and generally will be posted if they are on-topic and not abusive.
For more information, please see our Comments FAQ