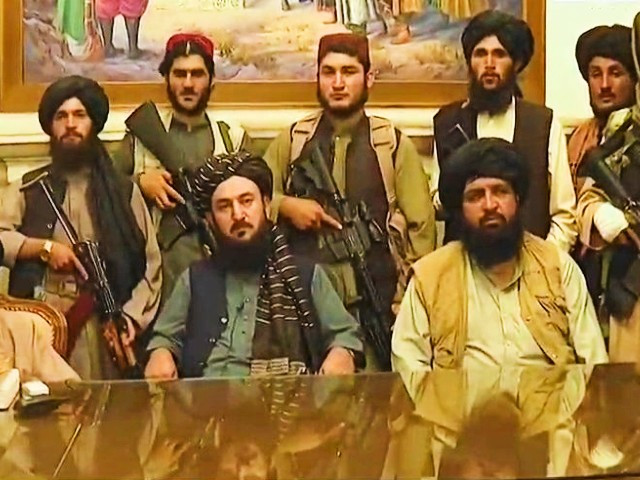 ---
President Ashraf Ghani, along with his close aides, flew out of Afghanistan on Sunday, paving way for Taliban to regain power 20 years after a US-led military invasion ousted them.
A senior Afghan Interior Ministry official confirmed the development to Reuters. Asked for comment, the president's office said it "cannot say anything about Ashraf Ghani's movement for security reasons".
Shortly after President Ghani flew out of the country, Taliban commanders claimed that they "took control" of the presidential palace in Kabul, Russia's RT reported.
The report quoted the group as saying that it expected a total handover of power.
Ghani, in his first comments since leaving the country, said that he left the country in order to avoid bloodshed
Afghan president said that he left in order to avoid clashes with the Taliban that would endanger millions of Kabul residents.
He did not disclose details on his current location.
Mohammad Naeem, the spokesman for the Taliban's political office in Qatar, assured all embassies, diplomatic missions and residences of foreign nationals in Kabul that there is no danger to them.
"The forces of the Islamic Emirate are tasked with maintaining security in Kabul and other cities in the country," he wrote on his Twitter handle.
نؤكد لجميع السفارات والبعثات الدبلوماسية والمؤسسات ومساكن الرعايا الأجانب في كابول أنه لا يوجد خطر عليهم. يجب أن يكون الجميع في كابول بثقة تامة ، وقوات الإمارة الإسلامية مكلفة بالحفاظ على الأمن في كابول ومدن أخرى في البلاد

— Dr.M.Naeem (@IeaOffice) August 15, 2021
A Taliban spokesman told Al Jazeera that those who worked with the West-backed government and military will be offered amnesty.
Two officials from the militant group told Reuters there would be no transitional government following their lighting sweep across Afghanistan.
Ghani's destination was uncertain: a senior Interior Ministry official said he had left for Tajikistan, while a Foreign Ministry official said his location was unknown and the Taliban said it was checking his whereabouts.
Some local social media users branded him a "coward" for leaving them in chaos.
Meanwhile, the US Embassy in Kabul said in a security alert that the security situation in the Afghan capital was changing quickly, including at the airport, where there were reports of gunfire as US troops aid an evacuation of most US personnel.
"There are reports of the airport taking fire; therefore we are instructing US citizens to shelter in place," the embassy said.
State Dept warning US citizens not to come to Kabul airport (presently taking fire), Acting US Amb has just fled the embassy. It's a debacle. pic.twitter.com/qux9etS3jO

— ian bremmer (@ianbremmer) August 15, 2021
According to a statement issued by the insurgent group, the Taliban ordered its fighters to enter the city because "now there are reports that districts in Kabul have been evacuated, police have left their job of providing security, ministries have been evacuated, and security personnel from the Kabul administration have fled".
#عاجل:
قطعات نظامی امارت اسلامی جهت تأمین امنیت داخل شهر کابل شدند.
فرقه ۱۱۱ پلچرخی فتح گردید و پیشروی به شکل نورمال ادامه دارد.
همچنان مراکز ۱۱ ولسوالی کابل(استالف، سروبي، ده سبز، قره باغ خاکجبار، پغمان، بگرامي، موسهي، چهاراسیاب، گلدره و شکردره)نیز باتمام ملحقات خود فتح شدند.

— Zabihullah (..ذبـــــیح الله م ) (@Zabehulah_M33) August 15, 2021
"So that God forbid the common thieves and robbers in Kabul do not mix, the abusers do not harm the people, the Islamic Emirate (Taliban) ordered its forces to enter the areas of Kabul from which the enemy went and areas there is a risk of theft and robbery," the statement continued.
The Taliban assured Kabul residents that they should not fear the troops and that none would enter anyone's homes or harass anyone.
د کابل ښار په بېلابېلو برخو کې د طالبانو اړوند امنیتي ځواکونه د ښار د امنیت لپاره ګمارل شوي.
د ښارپه زیاترو برخو کې امنیت خوندي دی؛ خو ځینو برخو کې د چور او چپاول راپورونه هم شته.
طالب مسئولین داډ ورکوي، چې ژر به د ښار امنیت په بشپړ ډول خوندي شي. pic.twitter.com/JfDzKOSofh

— nunn.asia (@nunnasia) August 15, 2021
Afghan Vice President Amrullah Saleh, who is said to have accompanied Ghani and the others who left, in a tweet vowed not to bow to the Taliban, but he did not respond in the message to reports of him leaving the country.
I will never, ever & under no circumstances bow to d Talib terrorists. I will never betray d soul & legacy of my hero Ahmad Shah Masoud, the commander, the legend & the guide. I won't dis-appoint millions who listened to me. I will never be under one ceiling with Taliban. NEVER.

— Amrullah Saleh (@AmrullahSaleh2) August 15, 2021
The Chinese Embassy in Kabul on the other hand said it has asked different Afghan parties to ensure the safety of Chinese citizens, institutions and interests in the country. The embassy said there have been no reports of casualties of Chinese citizens in the country.
The Chinese Embassy in #Afghanistan said Sunday it has asked different Afghan parties to ensure the safety of Chinese citizens, institutions and interests in the country. The embassy said there have been no reports of casualties of Chinese citizens in the country. pic.twitter.com/Dum9zGsfV8

— People's Daily, China (@PDChina) August 15, 2021
Acting defence minister Bismillah Mohammadi, earlier in the day, said that the president had handed the authority of solving the crisis in the country to political leaders. Mohammadi, according to ToloNews said that a delegation will travel to Doha on Monday for talks on the country's situation.
Meanwhile, sources close to the Taliban said that it has been agreed that Ghani will resign after a political agreement and hand the power to a transitional government.
Soon after an Afghanistan interior ministry official confirmed reports of Taliban entering Kabul from all sides earlier in the day, a spokesperson for the Taliban stated that the fighters have been ordered to remain at the city's gates, and not enter it.
Also read: Afghan Taliban enter Kabul two decades after US-led ouster
The Taliban's announcement signalled the insurgents were confident of taking power imminently, as the United States and other nations rushed to evacuate their citizens from the capital.
"The Islamic Emirate instructs all its forces to stand at the gates of Kabul, not to try to enter the city," a spokesperson for the Taliban tweeted.
Earlier in the day, Afghanistan Minister of Interior General Abdul Satar Mirzakwal announced that there will be a 'peaceful transfer of power' to a 'transitional government' hours after the Taliban began entering Kabul.
"The security of Kabul is the responsibility of the security forces," he said.
President Ghani's government was left completely isolated on Sunday after the Taliban claimed the anti-Taliban northern stronghold of Mazar-i-Sharif and the eastern city of Jalalabad.
Like with most of the other captured cities, the seizure of power came after government forces surrendered or retreated.
It left the Taliban holding all the cards in any negotiated surrender of the capital.
On Saturday, Ghani sought to project authority with a national address in which he spoke of "re-mobilising" the military while seeking a "political solution" to the crisis.
Read more: High-level delegation arrives in Islamabad
A high-level delegation of Afghan political leadership including Speaker Wolesi Jirga Mir Rehman Rehamni also arrived in Islamabad on Sunday evening.
"Just received a high level Afghan political leadership delegation including Speaker Ulusi Jirga Mir Rehman Rehmani, Salah-ud-din Rabbani, Mohammad Yunus Qanooni, Ustad Mohammad Karim Khalili, Ahmad Zia Massoud, Ahmad Wali Massoud, Abdul Latif Pedram, and Khalid Noor," Pakistan's Special Representative for Afghanistan Mohammad Sadiq wrote on his Twitter handle.
He said that matters of mutual interest will be discussed during the Afghan political leadership's visit.
Taliban enter Kabul
Taliban insurgents entered Kabul earlier today and said they expected to take power within days, promising to moderate their earlier hardline Islamic rule even as foreign diplomats and many locals tried to leave.
American diplomats were evacuated from their embassy by chopper after a lightning advance by the militants, who were poised to run Afghanistan again 20 years after they were toppled by US-led forces following the Sept 11 attacks on the United States.
Taliban fighters were reaching the capital "from all sides", a senior Afghan interior ministry official told Reuters.
However, there were no reports of fighting.
The group was in talks with the Western-backed government for a peaceful surrender, Taliban spokesperson Zabihullah Mujahid said.
"Taliban fighters are to be on standby on all entrances of Kabul until a peaceful and satisfactory transfer of power is agreed," he said in a statement.
Also read: Taliban surge exposes failure of US efforts to build Afghan army
Ali Ahmad Jalali, a US-based academic and former Afghan interior minister, could be named head of an interim administration in Kabul, three diplomatic sources said, though it was unclear whether the Taliban had agreed.
Known during their past rule for keeping girls out of school and their hardline practice of Islamic law, including punishments of amputation, stoning and hanging, the Taliban appear to be trying to project a more modern face.
Another spokesperson Suhail Shaheen said the group would protect the rights of women, as well as freedoms for media workers and diplomats.
"We assure the people, particularly in the city of Kabul, that their properties, their lives are safe," Shaheen told the BBC, saying a transfer of power was expected in days.
The ease of the Taliban's advance, despite billions of dollars spent by the United States and others to build up local Afghan government forces, has stunned the world.
Choppers at embassy
US officials said diplomats were being ferried by helicopters to the airport from its embassy in the fortified Wazir Akbar Khan district. More American troops were being sent to help in the evacuations after the Taliban's surge brought the Islamist group to Kabul in a matter of days.
Also read: Emirates flight to Kabul diverts to Dubai, flydubai suspends services
"Core" US team members were working from the airport, a US official said, while a NATO official said several European Union staff had moved to a safer location in the capital.
Earlier on Sunday, the insurgents captured the eastern city of Jalalabad without a fight, giving them control of one of the main highways into landlocked Afghanistan. They also took over the nearby Torkham border post with Pakistan, leaving Kabul airport the only way out of Afghanistan still in government hands.
"The governor has surrendered to the Taliban," a Jalalabad-based Afghan official told Reuters. "Allowing passage to the Taliban was the only way to save civilian lives."
A video clip distributed by the Taliban showed people cheering and shouting "Allahu Akbar" - God is greatest - as a convoy of pickup trucks entered Jalalabad with fighters brandishing machine guns and the white Taliban flag.
After US-led forces withdrew the bulk of their remaining troops in the last month, the Taliban campaign accelerated as the Afghan military's defences appeared to collapse.
Read more: High-level Afghan delegation arrives in Islamabad as Taliban surround Kabul
President Joe Biden on Saturday authorised the deployment of 5,000 US troops to help evacuate citizens and ensure an "orderly and safe" drawdown of military personnel. A US defence official said that included 1,000 newly approved troops from the 82nd Airborne Division.
The Taliban said its rapid gains showed it was popularly accepted by the Afghan people.
Biden said his administration had told Taliban officials in talks in Qatar that any action that put US personnel at risk "will be met with a swift and strong US military response".
He has faced rising domestic criticism after sticking to a plan, initiated by his Republican predecessor Donald Trump, to end the US military mission in Afghanistan by Aug 31.
"An endless American presence in the middle of another country's civil conflict was not acceptable to me," Biden said on Saturday.
(With input from agencies)
COMMENTS
Comments are moderated and generally will be posted if they are on-topic and not abusive.
For more information, please see our Comments FAQ