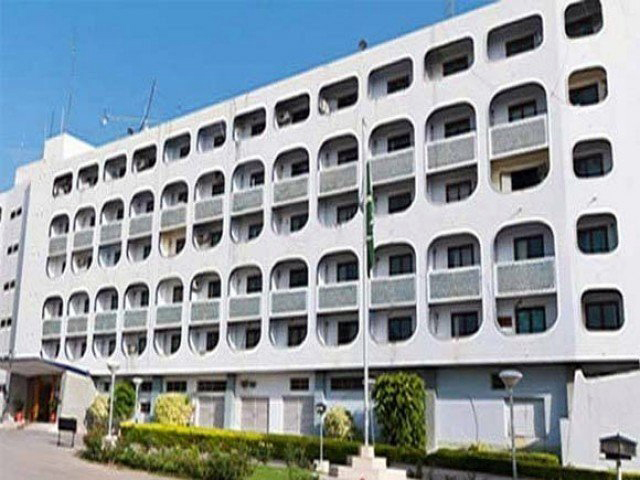 ---
ISLAMABAD:
A day after Kabul fell to the Taliban and Afghanistan President Ashraf Ghani fled the capital, the Pakistan Foreign Office said that it was imperative for Afghan leaders to work together to address the evolving situation "and craft a way forward for sustainable peace and stability in Afghanistan".
In a press statement on Monday, the FO spokesperson said Islamabad continued to "closely follow the developments in the rapidly evolving situation in Afghanistan".
Read: Civil-military huddle today to discuss Kabul takeover
The FO further said that Pakistan has consistently emphasised that a political solution is "indispensable" to resolve the situation, adding that Islamabad will continue to play its constructive role in promoting this goal.
According to the statement, achieving lasting peace and stability in Afghanistan and bringing an end to the four-decade-long conflict was a shared responsibility of the international community.
"We hope that our collective efforts will help bring lasting peace, progress and prosperity to Afghanistan," it added.
Read more: Ghani flies out of Afghanistan as Kabul falls to Taliban
On Sunday, FO said it has no plans to shut down its embassy in Kabul and added that Islamabad was monitoring the situation in the Afghan capital as the situation deteriorated rapidly in the country.
The spokesperson said the Pakistani nationals in the war-torn country were being assisted and there were no plans to close the embassy as of yet.
The Taliban declared the war in Afghanistan over after taking control of the presidential palace in Kabul while Western nations scrambled on Monday to evacuate their citizens amid chaos at the airport as frantic Afghans searched for a way out.
President Ashraf Ghani fled the country on Sunday as fighters from the group entered the capital virtually unopposed, saying he wanted to avoid bloodshed, while hundreds of Afghans desperate to leave flooded Kabul airport.
It took the Taliban just over a week to seize control of the country after a lightning sweep that ended in Kabul as government forces, trained for years and equipped by the United States and others at a cost of billions of dollars, melted away.
COMMENTS
Comments are moderated and generally will be posted if they are on-topic and not abusive.
For more information, please see our Comments FAQ