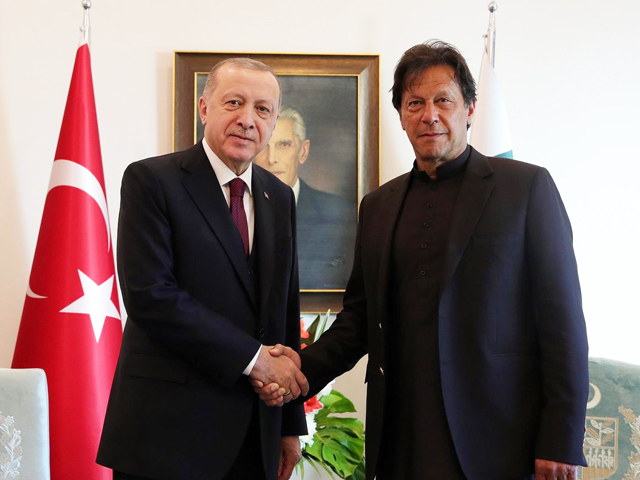 ---
Shortly after the Taliban took control of Afghanistan's presidential palace following president Ashraf Ghani's departure from the country, President of Turkey Recep Tayyip Erdogan called Prime Minister Imran Khan on Sunday as the two leaders reviewed the rapidly evolving situation in Afghanistan, a statement from the Prime Minister's Office (PMO) said.
The statement said that the premier conveyed that Pakistan was extending facilitation in the evacuation of diplomatic personnel and staff of international organisations and others in Kabul, as requested.
The prime minister added that the evolving situation would be further deliberated upon at the National Security Committee (NSC) meeting tomorrow. "The two leaders would consult again after the meeting with a view to coordinating their efforts," the statement added.
Read more: Taliban 'take over' presidential palace as Ghani flies out of Afghanistan
PM Imran reaffirmed Pakistan's resolve to continue all efforts in support of an inclusive political solution in Afghanistan, it added.
Earlier today, the Turkish president said that Pakistan has a vital duty to bring peace and stability to Afghanistan.
"As Turkey, we are facing a wave of Afghan migrants through Iran," said Erdogan speaking alongside his Pakistani counterpart Arif Alvi at a ship launching ceremony of the Pakistan MILGEM Corvette Project in Istanbul on Sunday.
Erdogan added that his country would continue to put every effort to help bring stability in Afghanistan and in the region.
Also read: Afghan Taliban enter Kabul two decades after US-led ouster
"To achieve this, we need to boost cooperation with Pakistan."
Erdogan said Turkey will work with Pakistan to help stabilise Afghanistan and prevent a new flood of refugees.
"We will continue efforts to enable the return of stability in the region, beginning with Afghanistan," Erdogan said.
"To do that, we have to pursue and strengthen our cooperation with Pakistan."
"We are determined to mobilise all the means at our disposal to succeed," the Turkish leader further said.
COMMENTS
Comments are moderated and generally will be posted if they are on-topic and not abusive.
For more information, please see our Comments FAQ