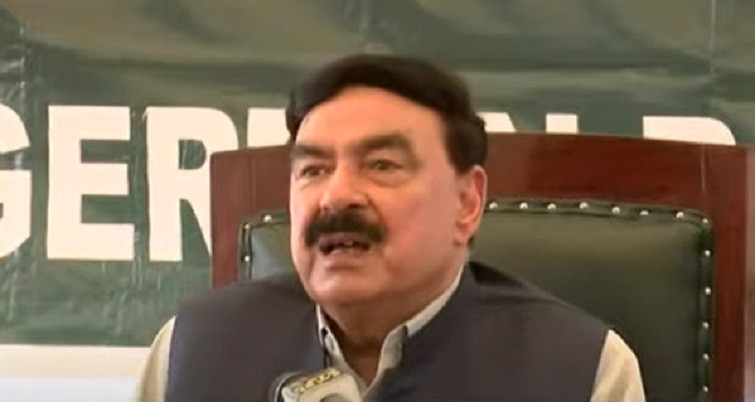 ---
ISLAMABAD:
Interior Minister Sheikh Rashid Ahmad on Monday said former prime minister Nawaz Sharif had only two options: either he appealed against the rejection of his request for visa extension by the UK government, or seek political asylum there.
Addressing a news conference at the interior ministry, Rashid said that the ChinaPakistan Economic Corridor (CPEC) could not be harmed by any external conspiracies, and assured that the government would not tolerate any interruption in the implementation of the mega project.
The minister said that Pakistan Muslim League Nawaz (PML-N) Quaid Nawaz Sharif's passport had been revoked by the government on February 16. Last week, the UK government also rejected his request for extension in his visa.
"Nawaz Sharif has two options: appeal or seek political asylum," Rashid said, adding that the former prime minister would not opt for the later.
"The true leader is the one who lives and dies in the country, Nawaz Sharif should return to the country," he added. We have [also] faced jails." Rashid said that the current situation of the country demanded unity.
"The opposition does not understand the situation in the region."
He added that it was high time to jointly foil the conspiracies of enemies as they were always active against the country.
Read Rashid predicts PML-N's political end after AJK polls
India's RAW [Research and Analysis Wing], NDS [National Directorate of Security of Afghanistan] and Israeli spy agency [Mossad] are trying to sabotage peace in Pakistan and they are also using media to create disharmony among various sections of the society of Pakistan," he said.
He said that he had held two meetings with Chinese ambassador and assured him of tightening the security of Chinese nationals working in Pakistan.
He made it clear that CPEC project would not be harmed any external conspiracy.
Referring to the Kohistan bus incident, in which nine Chinese citizens working on the Dasu dam project were killed, along with four Pakistani nationals, the minister said that the investigation into the incident has been completed.
"The foreign ministry will issue a statement on this," he added.
He stated the interior ministry had completed its investigation into the case of alleged kidnapping of the daughter of Afghan ambassador.
He added that the factual situation had been shared with the Afghan investigation team through the Foreign Office.
COMMENTS
Comments are moderated and generally will be posted if they are on-topic and not abusive.
For more information, please see our Comments FAQ