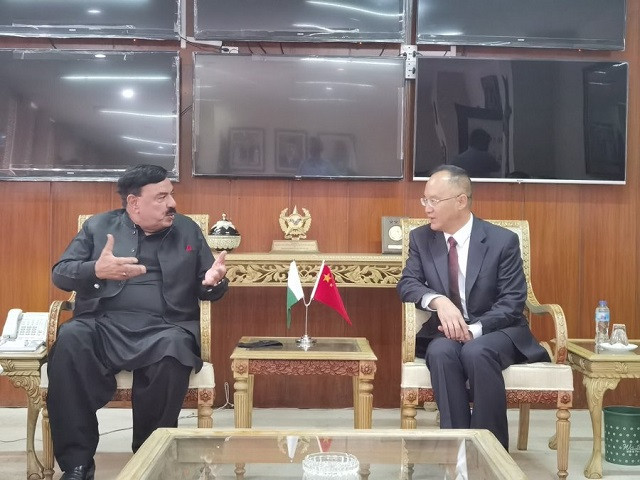 ---
ISLAMABAD:
Interior Minister Sheikh Rashid and China's Ambassador to Pakistan Nong Rong held a meeting at the former's residence in Rawalpindi on Sunday to discuss the security provided to Chinese nationals in the country.
During the meeting, the Chinese envoy and the interior minister also discussed issues of mutual interest, including the bilateral ties between Pakistan and China.
The Dasu bus blast also came under discussion during the meeting. It was decided that the investigation into the blast - that claimed the lives of over a dozen people, majority Chinese citizens, last month - would be completed as soon as possible.
Read 9 Chinese among 13 dead in Kohistan bus plunge
The said incident had occurred in the remote Barfeen mountainous area of the Upper Kohistan district. In addition to the nine Chinese nationals, four Pakistani citizens, including two FC personnel, the bus driver and a labourer, also died in the blast.
Rashid told the Chinese envoy that Pakistan will take measures to ensure foolproof security to Chinese nationals working in Pakistan. The minister said China-Pakistan Economic Corridor (CPEC) project will not become a "victim of any external conspiracy", adding that no force can become an "obstacle in the relations between Pakistan and China".
The Chinese envoy said that a number of Chinese companies were working in Pakistan on several projects and added that the Chinese government was thankful to the interior ministry for the provision of facilities to its nationals working in the country.
COMMENTS
Comments are moderated and generally will be posted if they are on-topic and not abusive.
For more information, please see our Comments FAQ