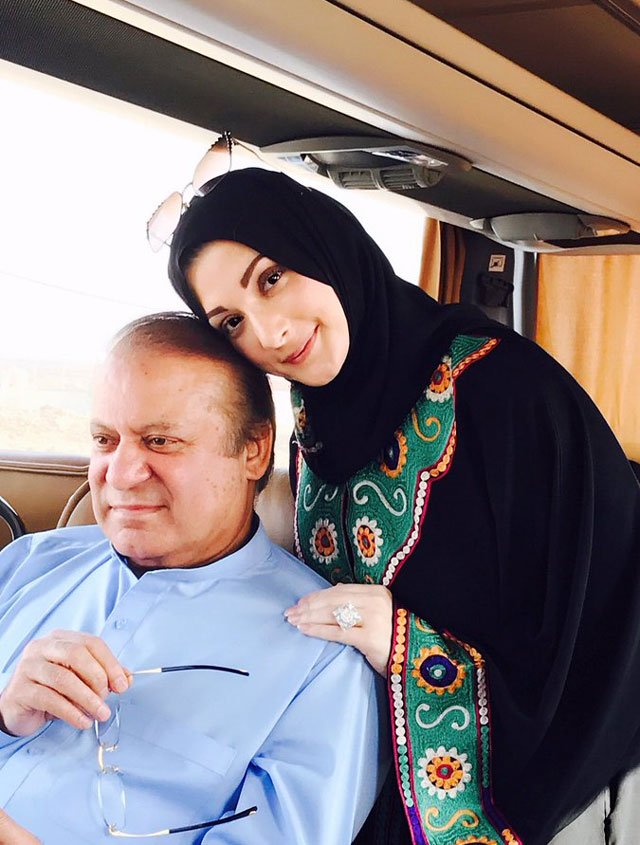 ---
ISLAMABAD/ LAHORE:
The PML-N and the government on Friday continued to issue statements against each other over the British Home Office rejecting party supremo and convicted former premier Nawaz Sharif's visa extension application.
PML-N Vice President Maryam Nawaz, daughter of the former PM, said the PTI-led government had "lost a psychological war" against her father.
"The excitement of government representatives — from top to bottom — over the visa issue is a sign that Nawaz Sharif has gotten on their nerves," the PML-N vice-president wrote in a tweet.
Maryam said the government was "well aware" that Nawaz was not only "the present of Pakistan but he also its future."
"You [the government] cannot earn respect by demeaning others," she added.
ویزا اشو پر اوپر سے لے کر نیچے تک حکومتی عہدے داروں کی چھلانگیں اس بات کی علامت ہے کہ نواز شریف کس بُری طرح ان کے اعصاب پر سوار ہے۔ نواز شریف سے ذہنی شکست کھا چکی اس جعلی حکومت کو معلوم ہے کہ الّلہ کے فضل و کرم سے نواز شریف نا صرف پاکستان کا حال بلکہ انشاءاللّہ مستقبل بھی ہے۔

— Maryam Nawaz Sharif (@MaryamNSharif) August 6, 2021
PML-N President Shehbaz Sharif regretted that the PTI government was playing "petty politics" over his brother's life and trying to "malign the country's reputation" by issuing controversial statements.
"False statements issued by the government for political gains are shameful," the leader of the opposition in the National Assembly added.
The opposition leader further said PM Imran Khan's government had itself decided to send Nawaz to London as he could not be treated in the country.
On Nawaz's stay in the UK and the possibility of his return to the country, Shehbaz said that it would be decided on his doctors' advice.
Party spokesperson Marriyum Aurangzeb criticised the government for the "propaganda that Nawaz was not ill".
Also read Nawaz rebuffs Shehbaz's views on political reconciliation
She said it seemed like PTI had lost its mind because it was the ruling party which had sent him abroad saying that he was extremely ill and now negating its own stance by saying that he had fled.
Separately, Federal Information and Broadcasting Minister Fawad Chaudhry mocked the PML-N leader on the rejection of his application.
Using Twitter and tagging a tweet by Marriyum Aurangzeb, he asked if Nawaz had any self-respect and honour.
He asked PML-N leaders having roots in Pakistan to comment on Nawaz's efforts for an extension in his stay in the UK.
Addressing a news conference, Special Assistant to the PM on Political Communication Dr Shahbaz Gill claimed the UK had rejected Nawaz's visa extension application over his "false statements".
He added that the UK had given Nawaz two chances to prove his illness.
"However, he misled the UK authorities about his illness by attaching old medical reports with the application."
He demanded that the PML-N leader should share the visa rejection letter with the media.
State Minister for Information and Broadcasting Farrukh Habib, while addressing another new conference, said the PML-N leadership was spending "sleepless nights" after UK's refusal to extend Nawaz's visa on medical grounds.
"You [Nawaz] have eaten enough pizzas and watched polo matches in London, besides having many cups of coffees and visits to Hyde Park. Now, it is time for you to return home," the minister added, flanked by Special Assistant to the Prime Minister on Youth Affairs Muhammad Usman Dar.
He advised Nawaz to relinquish his "obstinacy" and come back to the country to serve the jail term handed down to him in corruption cases.
Farrukh said PML-N leaders were setting new records of "speaking lies" in public.
"It is the hallmark of their politics that can be traced back to the 'Qatari letter' and fake trust deed, produced by the party in the court in defence of their leader's corruption."
COMMENTS
Comments are moderated and generally will be posted if they are on-topic and not abusive.
For more information, please see our Comments FAQ