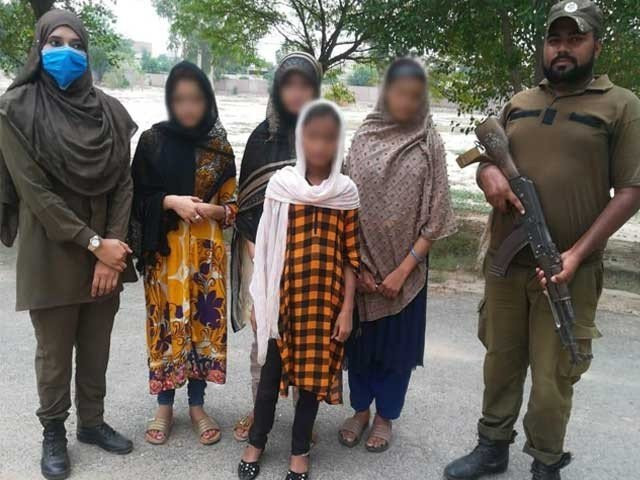 ---
LAHORE:
Punjab Police recovered four missing girls —Anam, Kinza, Ayesha and Samreen — from Sahiwal on Wednesday, five days after going missing in Hanjarwal area of Lahore.
Lahore CCPO Ghulam Mehmood Dogar said that it was premature to say that the girls were abducted or they had gone to Sahiwal on their own will. "The real facts about the incident would be revealed after a thorough investigation," he added while speaking to the media.
IGP Punjab Inam Ghani also confirmed the development on his official Twitter handle. "Right now they are in our safe custody and very soon we will take them to their families in sha Allah. It is our duty to provide security to our kids," he further wrote.
Read more: Police still clueless about four missing girls
Talking to the media in Lahore, the girls said that they want to continue their education but their father is against it. They appealed to Punjab Chief Minister Usman Buzdar to help them as their father neither have a job nor money for their education.
Meanwhile, Lahore police arrested two persons including a rickshaw driver Arslan who had dropped the girls near EME Society at the Canal Road in the provincial capital before their disappearance and a neighbour of girls, identified as Umar.
Umar was in frequent contact with the girls before they went missing. He was the last person whom the girls contacted before disappearing under suspicious circumstances, police officials had said earlier.
Police sources told Express News that the rickshaw driver brought the girls to Sahiwal to sell them to the criminals who would've used them for "immoral activities".
Also read: Missing child found dead in fields
Anam Irfan, 10, and Kinza Irfan, 11, are sisters. The other two girls identified as Ayesha 14, and Samreen 8, were also sisters and friends and neighbours to Anam and Kinza.
The girls had reportedly left their house to visit Orange Line Metro Train but did not return. The complainant Irfan Iftikhar registered a complaint before the police mentioning that his two daughters along with their two friends left the house to visit OLMT but did not return home.
Meanwhile, Chairperson Child Protection and Welfare Bureau Punjab Sarah Ahmed said that the bureau took custody of the girls from police after they refused to go with their parents.
(With additional input from APP)
COMMENTS
Comments are moderated and generally will be posted if they are on-topic and not abusive.
For more information, please see our Comments FAQ