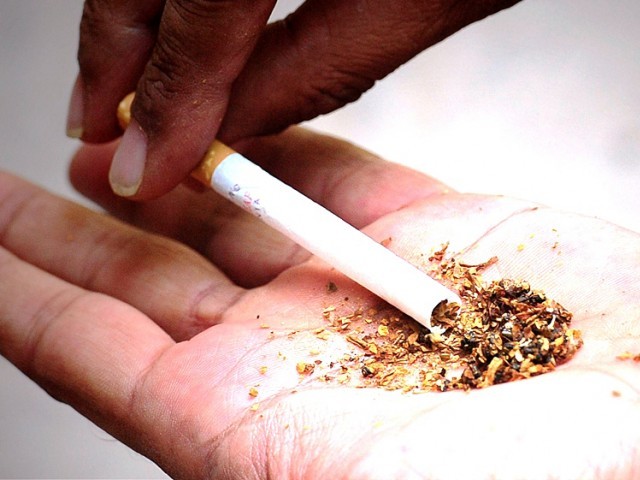 ---
MIANWALI:
Police arrested a youth for allegedly chopping off his father's ear in the city on Tuesday.
According to the police report, the suspect identified as Abrar alias Abra was a drug addict.
The youth was regularly consuming hashish and ice for the past 10 years and would often quarrel with his family.
The suspect would often sell personal as well as household items in order to pay for the drugs. His father, 60-year-old Saeed Badshah was retired and only had pension as his source of income.
On the day of the incident, the suspect demanded money from his father to buy the drugs, which he refused to give. He also prohibited from buying any more drugs.
The drug addict and his father quarreled over the monetary dispute. In a fit of rage, the suspect allegedly attacked his father and chopped off his ear. The victim was shifted to Kalabagh Tehsil Headquarters Hospital.
Police registered a case against the suspect and arrested him.
The victim's mother stated that the suspect also allegedly attempted murder on his three-year-old brother Iqrar. "Abrar is a constant source of trouble for us. My family has been very stressed because of his drug problem."
This is not the incident of body mutilation in the province.
Read: Stabbing case: What constitutes 'good behavior'?
On February 2, the genitals of a man were mutilated in an attack near Mianwali.
The young man was assaulted in Kalabagh area.
The victim, a resident of Gharibabad, was married for the second time in three years. He had a son from his first marriage and later developed a relationship with another woman, whom he married by his own choice in Kalabagh.
Last year, after the victim married for the second time, he reconciled twice with his first wife, on the condition that he would not visit or go anywhere near the locality of her family. However, the victim would repeatedly stalk the locality of his in-laws from first marriage.
Reportedly, the victim threw a ball at his in-laws, as a result of which his conflict with them aggravated.
In a fit of rage, members of his first wife's family grabbed the man and allegedly chopped off his genitals.
In a similar incident on January 30, a woman along with her accomplices cut off the genitals of a youth in Nemat Town, Dijkot.
The accused Jamila Bibi alias Gogi, a resident of Nemat Town, had lured the youth into having relations with her.
However, the 20-year-old man refused to do so.
After the victim's refusal, the enraged woman grabbed the young man and, with the help of her unidentified armed accomplices, took him to a barnyard.
Published in The Express Tribune, August 4th, 2021.
COMMENTS
Comments are moderated and generally will be posted if they are on-topic and not abusive.
For more information, please see our Comments FAQ