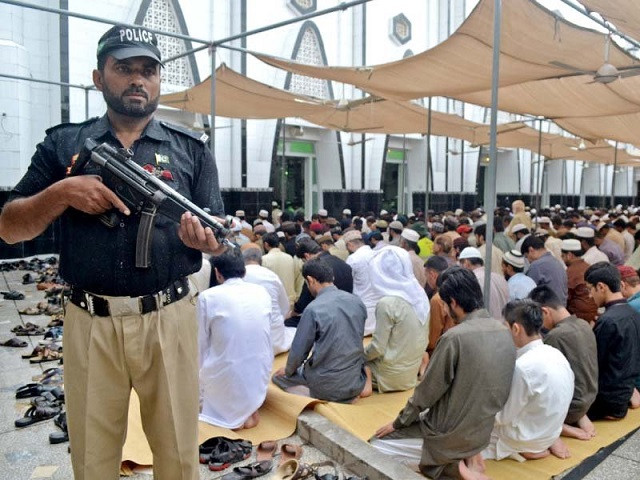 ---
LAHORE:
Lahore Capital City Police Officer (CCPO) Ghulam Mahmood Dogar reviewed the security arrangements in the city for Imambargahs and Majalis being held during the upcoming month of Muharramul Haram. DIG Operations Sajid Kiani and related SPs, DSPs, SHOs and other officers accompanied him.
He visited various Imambargahs and routes of mourning processions of the metropolis including 145-A, Model Town, Jamiatul Muntazir, Model Town and Pando Street, Islampura.
Dogar also met with the organisers of Imambargahs and licence holders of Majalis of City Division along with members of divisional and executive peace committee as well as religious leaders. The CCPO discussed security arrangements and certain issues of mutual interest with the clergy.
Read Governor assures of foolproof security for Muharram
Dogar said round the clock monitoring of social media pages will be ensured through special monitoring cells during Muharram. "Police along with Counter Terrorism Department and the Federal Investigation Agency will take strict action against uploading and making of controversial, blasphemous videos, texts and hate material promoting extremism, religious disputes and sectarianism.
The CCPO stressed upon the need for creating religious harmony and brotherhood, forging unity among the people of different groups, sects and beliefs to ensure maintenance of peace and solidarity in the city in the wake of changing situation at Northwestern borders. "Due to the strategic importance of our country, enemies can try to damage the peace and harm our national interests by creating religious conflict."
"Around 15,000 police officers and officials along with personnel of Dolphin Squad, Police Response Unit, Anti-Riot Force, Elite Force and Ababeel Squad will be deployed for security." The CCPO said that implementation of government directions regarding Covid SOPs will be ensured in collaboration with management of Imambargahs, Majalis and peace committees in the wake of Delta Variant during the fourth wave of Covid-19.
Published in The Express Tribune, August 3rd, 2021.
COMMENTS
Comments are moderated and generally will be posted if they are on-topic and not abusive.
For more information, please see our Comments FAQ