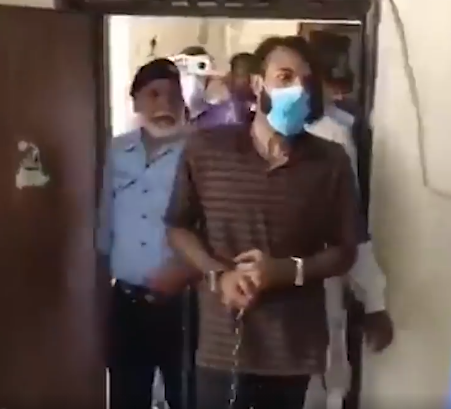 ---
ISLAMABAD:
A sessions court in Islamabad sent on Monday the accused in the brutal murder case of Noor Mukadam, Zahir Jaffer, to jail on judicial remand till August 16.
The accused was produced before Judicial Magistrate Shaista Kundi under tight security on the expiration of his previous two-day physical remand.
During the proceedings, the judicial magistrate inquired how many days had been to the incident. To this, the police informed the court that 12 days had passed and the investigation had been completed.
The accused was directed to approach the rostrum and state his name thrice. The accused did not respond the first time and later stated that his lawyer will speak on his behalf.
The judicial magistrate then asked the suspect if he wanted to say anything, to which he again stated that his lawyer will respond.
Read Noor murder accused taken to Lahore for polygraph test
The court later sent the accused to jail on judicial remand till August 16 and adjourned the hearing.
Noor's father, Shaukat Mukadam, was also present at the hearing.
Jaffer, accused of murdering and beheading 27-year-old Noor on June 20, is reported to have since confessed to his crimes. However, sources claim that Jaffer has repeatedly changed his reasoning for committing the crime.
It is to be noted that besides Jaffer, the accused's parents, Zakir Jaffer and Asmat Adamjee, and their two domestic aides, are also facing a trial for their alleged role in the murder.
On July 30, the Islamabad police took Jaffer to the Punjab Forensic Science Agency in Lahore, for a polygraph test and forensic analysis of CCTV footage.
The accused was taken to the agency following a July 28 hearing wherein the prosecution was granted his three-day physical remand.
The brutal case of Noor Mukadam sparked nationwide outrage with thousands of people calling on the authorities to take the case to its logical end. The post-mortem report indicated last week that the victim had succumbed to her injuries before being beheaded.
COMMENTS
Comments are moderated and generally will be posted if they are on-topic and not abusive.
For more information, please see our Comments FAQ